The search is on for a five-year-old boy in need of a heart transplant.
Police say Porter Stone's father, Jeffrey Stone, took off with the boy just discharged from a children's hospital in St Louis, Missouri, and could be headed to the Bay Area.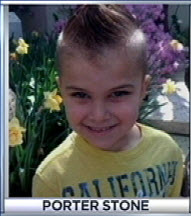 Authorities say Jeffery Stone took off in a black of silver Toyota Corrolla with California license plate number: 6BMU445
The car appears to be owned by Jeffery Stone's mother, Rhonda Marie Mathews, who has an East Bay address.
Investigators believe she could be with the father and son.
Jeffery Stone is 33 years old, 6'6" and about 230 lbs.
He was last seen wearing a Giants baseball cap.
Investigators say Stone is going through a divorce with Porter's mother.
Doctors say Porter's condition will only worsen without proper care and a supply of medication.
Anyone with information should call 911.