As the San Jose Sharks hockey players ran out of their locker room to hit the ice before Game 4 against the Los Angeles Kings, diehard fan Nick Gallagher sat in his wheelchair with his fist out.
Most of the players fist-pumped him back to his joy. His dream was coming true. His whole life he wanted to meet the Sharks up close and on Tuesday night...he did.
"Ever since I became a fan, I've always wanted to meet them and I got the chance to meet them," Gallagher said with a big smile on his face.
It hasn't been easy these past seven years for this 28-year old Aptos resident. Gallagher has been battling brain cancer. He's in hospice care now. His final wish: To feel the ultimate hockey fan's experience. The Sharks and the Dream Foundation made it happen...rolling out the red carpet for Gallagher and his family. They received free tickets to Game Four.
But that's not all. Gallagher was allowed to sit on the Zamboni after the first period. He might as well have been sitting on top of the world...looking up at the crowd...soaking it all in.
"I wanted to be on one ever since. It's going to be the experience of a lifetime for me," Gallagher said.
The generosity shown to their son was emotional for his parents.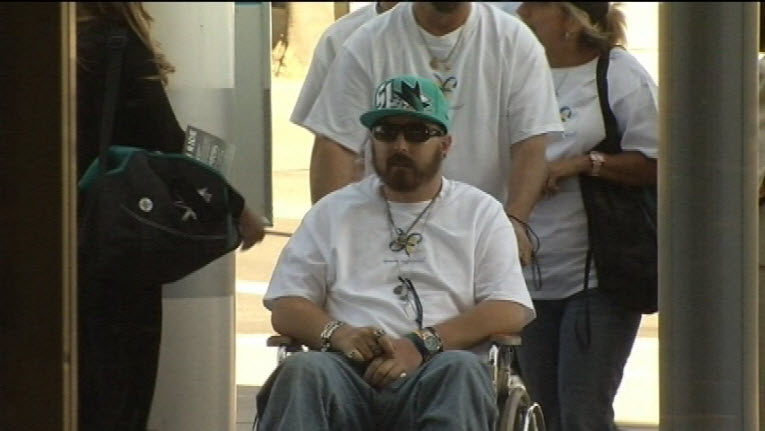 "I'm at a loss for words because my emotions right now are like up there," Kathy Costello, Gallagher's mother, said. "They're just so high right now and I can't say enough how much I appreciate it."
"This whole thing is just unbelievable," Matthew Gallagher said. "How they could just have somebody come in and have the lifetime dream."
It's been a tough road for Nick Gallagher. But at least for one night, the man who bleeds teal was able to live his dream.
The Dream Foundation is the first and largest national wish-granting organization for adults and their families who are suffering a life threatening illness.