A's manager Bob Melvin was awarded the American League Manager of the Year award Tuesday night courtesy of the Baseball Writers' Association.
During his first year in Oakland, Melvin lead a group of low paid rookies to an American League West title. He found a way to get his team to the top after being 13 games back at the end of June.
"He does a great job of mixing everyone together and making everyone feel like they're always going to be successful," A's coach Chip Hale told MLB.com. "I think he's gotten the most out of players who, in the past, haven't performed that well. He knows guys' personalities, knows when it's a good time to get them in, get them out and give them some rest."
Melvin also won the award in 2007 when he was the manager of the Arizona Diamondbacks.
The MLB Network is airing the best in baseball awards all week. Last night Mike Trout and Bryce Harper won Rookie of the Year honors. The Cy Young and Most Valuable Player winners are still on deck.
If the Manager of the Year Award was a Bay Bridge series, then the A's got a win Tuesday night and the Giants did not.
Giants manager Bruce Bochy did not win Manager of the Year for the National League. That award went to Davey Johnson of the Washington Nationals.
Here are the finalists for all of this week's awards:
American League Jackie Robinson Rookie of the Year Award
OF Yoenis Cespedes, Athletics
RHP Yu Darvish, Rangers
OF Mike Trout, Angels - winner
National League Jackie Robinson Rookie of the Year Award
3B Todd Frazier, Reds
OF Bryce Harper, Nationals - winner
LHP Wade Miley, D-backs
AL Manager of the Year Award
Bob Melvin, Athletics
Buck Showalter, Orioles
Robin Ventura, White Sox
AL Manager of the Year Award
Bob Melvin, Athletics- winner
Buck Showalter, Orioles
Robin Ventura, White Sox
NL Manager of the Year Award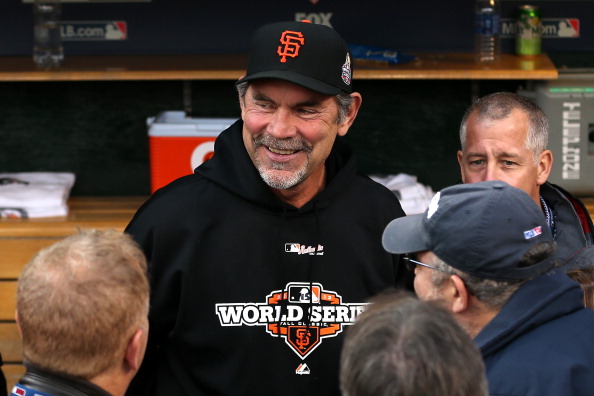 Dusty Baker, Reds
Bruce Bochy, Giants
Davey Johnson, Nationals- winner
AL Cy Young Award
LHP David Price, Rays
RHP Justin Verlander, Tigers
RHP Jered Weaver, Angels
NL Cy Young Award
RHP R.A. Dickey, Mets
LHP Gio Gonzalez, Nationals
LHP Clayton Kershaw, Dodgers
AL Most Valuable Player Award
Adrian Beltre, Rangers
Miguel Cabrera, Tigers
Robinson Cano, Yankees
Josh Hamilton, Rangers
Mike Trout, Angels
NL Most Valuable Player Award
Ryan Braun, Brewers
Chase Headley, Padres
Andrew McCutchen, Pirates
Yadier Molina, Cardinals
Buster Posey, Giants