The family of the man who was shot by four San Jose police officers Sunday morning talked to the San Jose Mercury News. They said they are hiring well-known Bay Area lawyer John Burris and plan to sue the police for a wrongful shooting.
Javier Gonzales-Guerrero, 25, was shot multiple times after police woke him up in a stairwell of a hotel. Police said he had a gun and was reaching for it.
That gun turned out to be fake and part of a Halloween custome the man was wearing. He was also wearing hospital scrubs.
Guerro's family said his was trying to do the right thing and not drive after getting drunk at a nearby costume party. They said he asked friends to drop him off at the hotel so he could sleep it off.
His cousin Valerie Barragan told the Merc that there is a photograph of Guerrero at the party in medical scrubs standing next to a friend who had a gold plastic gun as part of their costume. She said he must have forgotten he had the fake gun.
Audio recordings from 911 calls and dispatch .(link here) show people at the Extended Stay Hotel on Brokaw told police the man was armed prior to their arrival.
The 911 caller said a couple workers had tried and failed to wake the man. When the operator asked if they thought the man needed medical attention, the caller added, "the thing is - he has a gun."
Police said they found Guerrero laying in a stairwell and a handgun was visible in his waist band.
Four officers surrounded the man and initially said they had trouble rousing him.
San Jose police said, "The suspect came to and reached for the gun in his waist band. Four officers, believing the suspect was about to try and shoot them, fired at the suspect, striking him multiple times. "
His family would not comment on his medical condition. Police said over the weekend his injuries were not life threatening.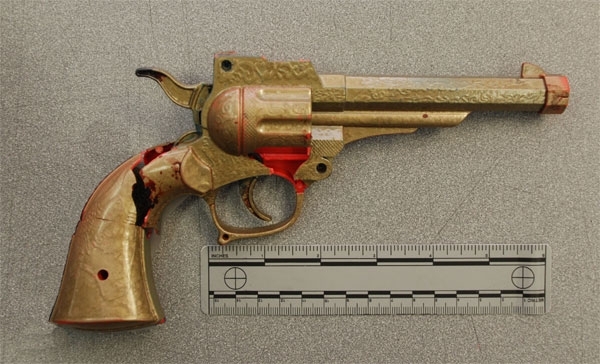 No officers were injured in the shooting. San Jose police released the ages and experience level of the four officers involved. All of them were in their 40s and had at least 13 years experience on the force.
This was San Jose's seventh officer-involved shooting. That is the total number of officer involved shootings in 2009 and 2010 together.