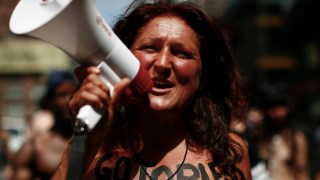 Women hit the streets of San Francisco Sunday with a little less clothing attached to their chests.
In a gender norms switcharoo, men sported string bikinis while the ladies enjoyed an afternoon free of shirts and bras at San Francisco's "GoTopless" day in an attempt to give women the same right as men to go topless in public, according to SFGate.
Although some law enforcement officials have reportedly tried to cover women up at past demonstrations, living topless is completely lawful in San Francisco, according to SFGate.
California also does not prohibit a top-free lifestyle as long as it is conducted in a non-offensive manner, SFGate reported. Confusion ensues when cities or particular agencies get involved and implement stringent regulations, which sometimes limit a person's ability to remove certain articles of clothing.
"GoTopless" day is celebrated on the Sunday closest to Women's Equality Day, which fell on Aug. 26 this year, according to SFGate. San Francisco's event was just one of several to take place across the country.