Schools all over the Bay Area are taking part in nationwide walkouts to protest gun violence and honor victims following the Parkland, Florida, shooting that killed 17 people on Feb. 14.
Students, teachers, school administrators, parents and allies are encouraged to walk out for 17 minutes around 10 a.m. across every time zone on March 14 as part of #Nationalschoolwalkout.
Organized by Women's March organizers, participants hope to get Congress to take action and pass legislation to keep schools safe from gun violence.
"We are not safe at school. We are not safe in our cities and towns," read the event's page. "Congress must take meaningful action to keep us safe and pass federal gun reform legislation that address the public health crisis of gun violence. We want Congress to pay attention."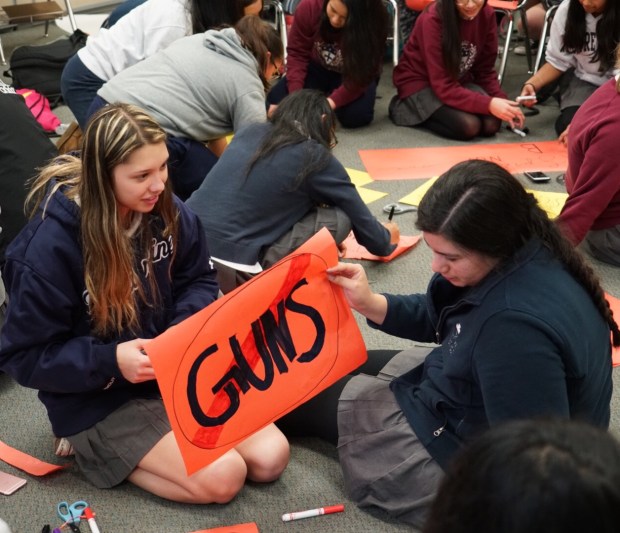 Bay Area Schools Prepare for #NationalSchoolWalkout
Below is a list of participating schools and sites around the Bay Area.
North Bay:
Sonoma Valley High School
Fairfield High School
Kentfield College of Marin
Kipp San Francisco Bay Academy
Napa High School
Napa Valley College
Petaluma Casa Grande High School
Petaluma Junior High School
Petaluma Kenilworth Junior High School
Petaluma Live Oak Charter School
Ross Branson High School
Saint Helena Robert Louis Stevenson Middle School
San Anselmo San Domenico School
San Francisco Hoover Middle School
San Francisco Lick-Wilmerding High School
San Francisco State School
San Francisco St. Ignatius College Prep
San Rafael Terra Linda High School
Santa Rosa High School
Sebastopol Analy High School
Vacaville High School
Windsor High School
San Francisco Everett Middle School
San Francisco City Hall Rally and March to Union Square
San Francisco Marina Middle School
East Bay:
Alameda Lincoln Middle School
Berkeley High School
Pittsburg High School
Albany Middle School
El Cerrito Madera Elementary
Union City James Logan High School
Alameda Encinal High School
Alameda Science and Tech Institute
Berkeley Ecole Bilingue Middle School
Berkeley K8
Berkeley UC Berkeley
Brentwood Heritage High School
Castro Valley Canyon Middle School
Castro Valley Creekside Middle School
Castro Valley High School
Concord Mount Diablo High School
Danville Monte Vista High School
El Cerrito High School
Fremont American High School
Fremont Basis Independent
Fremont Deaf Studies
Fremont High School
Fremont Thornton Junior High School
Fremont Washington High School
Hayward High School
Livermore Granada High School
Martinez Alhambra High School
Morgana Campolindo High School
Morgana Joaquin Morgana Intermediate
Oakland Chabot Elementary
Oakland Claremont Middle School
Oakland College Prep
Oakland High School
Oakland Tech High School
Oakley Freedom High School
Orinda Miramonte High School
Piedmont High School
Pittsburg Los Medanos Community College
Pittsburg High School
Pleasant Hill College Park High School
Pleasant Hill Diablo Valley College
Pleasanton Amador Valley High School
Pleasanton Foothill High School
Pleasanton Harvest Park Middle School
Richmond Salesian College Prep
San Ramon Dougherty Valley High School
San Ramon Valley High School
Vallejo High School
Walnut Creek Las Lomas High School
Peninsula:
Palo Alto Juana Briones Elementary
Stanford University
Belmont Ralston Middle School
Burlingame High School
Daly City Westmoor High School
Half Moon Bay High School
Menlo-Atherton High School
Mountain View High School
Mountain View Waldorf School of the Peninsula
Notre Dame Belmont High School
Pacifica Oceana High School
Palo Alto Addison Elementary
Redwood City Summit Prep Charter High School March to City Hall
San Carlos Tierra Linda Middle School
San Mateo Bay Meadows and Nueva School
San Mateo Baywood Elementary School
San Mateo Borel Middle School
San Mateo Hillsdale High School
South Bay:
Cupertino High School
Fremont High School

Monta Vista High School
Homestead High School

Kipp San Jose Collegiate
Los Altos Foothill College
Los Altos High School
Los Gatos Fisher Middle School
Los Gatos Rolling Hills Middle School
Milpitas High School
San Jose Branham High School
San Jose Leonard Herman Intermediate School
San Jose Lynbrook High School
San Jose Pioneer High School
San Jose Presentation High School
San Jose Santa Teresa High School
San Jose Silver Creek High School
San Jose State School
San Jose University Prep Academy
Santa Clara University
Saratoga Prospect High School
Saratoga West Valley College
Willow Glen Middle School