Boston bombing suspect Dzhokhar Tsarnaev will appear on the cover of the August edition of Rolling Stone magazine.
The cover photo is a self-taken portrait of Tsarnaev with shaggy hair and facial stubble.
The fact that the magazine used the photo for its cover sparked a national firestorm with many accusing Rolling Stones of giving a terrorist "rock star" treatment.
Rolling Stones former senior editor Ben Fong-Torres is defending the choice.
He says the latest issue is supposed to raise eyebrows.
"I think part of the job of Rolling Stone's mission has been to challenge the status quo and that means the media establishment. I don't think they thought they were creating controversy," Fong Torres said.
Fong-Torres said because the photo is on the cover, it elevates Tsarnaev's status. "Just as when the same photo appeared on the front page of the New York Times," Fong-Torres said.
The magazine's story was reported over the course of two months by the magazine's contributing editor Janet Reitman and promises to explain "how a popular, promising student was failed by his family, fell into radical Islam and became a monster."
Rolling Stones released the following statement:
Our hearts go out to the victims of the Boston Marathon bombing, and our thoughts are always with them and their families. The cover story we are publishing this week falls within the traditions of journalism and Rolling Stone's long-standing commitment to serious and thoughtful coverage of the most important political and cultural issues of our day. The fact that Dzhokhar Tsarnaev is young, and in the same age group as many of our readers, makes it all the more important for us to examine the complexities of this issue and gain a more complete understanding of how a tragedy like this happens. THE EDITORS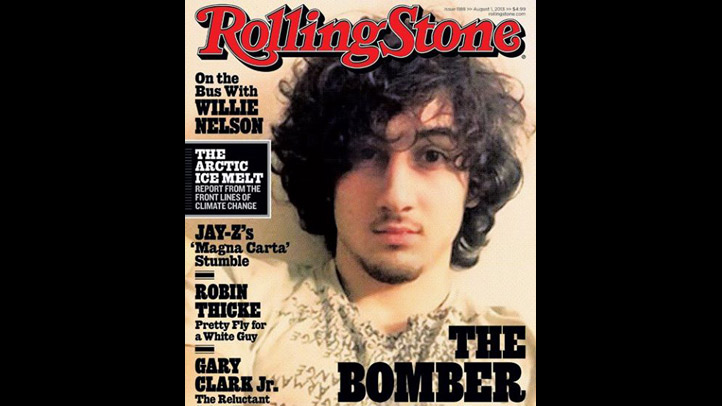 Published at 6:26 PM PDT on Jul 17, 2013 | Updated at 7:56 PM PDT on Jul 17, 2013