As planned, Daren Wilkerson is removing the giant Bernie Sanders logo from his roof as part of a major home renovation, but his devotion to the candidate and his disgust with the Democratic Party remain.
A crew tore up Wilkerson's roof and installed a new one on Sunday.
The red, white and blue "Bernie" painted on the roof of Wilkerson's Castro Valley home was always temporary.
Wilkerson says his passion for the candidate remains strong, but has been overshadowed by his frustration with the party process of choosing candidates.
'Berner' Who Painted Logo on Home Gets New Roof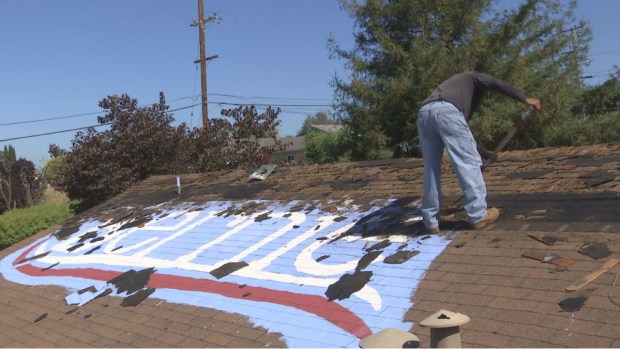 He stopped posting on Facebook about Sanders and tuned out the news. He explains that this was partially to protect his emotional investment in the cause.
The other factor is that the school year ended. When his job became finishing the major construction project at his home, he didn't have time to read or think about politics anymore. He's hoping to finish the addition before his wife, Sara, gives birth to a baby girl in September.
He felt let down when mainstream media outlets called the primary race before key states had voted, and angry about voting irregularities. He doesn't trust Hillary Clinton, and sees her as a more dangerous candidate than Donald Trump, because she knows what she's doing.
His friend Dave Cowan, who's working with him on the addition, says Wilkerson convinced him to vote for Sanders and he doesn't regret it. But he feels its time for "Berners" to lend their passion to the Clinton campaign and stop Trump.
Wilkerson plans to vote for Green Party candidate Jill Stein and show his support with a run-of-the-mill lawn sign.