A 9-month-old, tagged California fur seal found its way to a home in Fremont Thursday morning, puzzling cops and neighbors over how the small mammal waddled its way there.
Police spokeswoman Geneva Bosques made a video, which she tweeted out about 9:30 a.m., showing the seal, which rescuers nicknamed "Ozzie," likely for where it was found: In the 42300 block of Osgood Road.
"We have no idea how it made it to Osgood, far from any body of water," Bosques said.
The block is about four miles from the nearest body of sea water.
"It's possible," said Marine Mammal Center veterinarian Sophie Whoriskey. "These animals do haul out and spend some time on land sometimes, so they can certainly walk that far."
Police also showed a picture of smiling residents standing around the seal, which is in a cage and wrapped in a black blanket with white paw prints. Later, Fremont police updated the status of "Ozzie," stating its real name was "Kumofur." She was apparently supposed to head north, but ended up south. Police initially stated incorrectly that the seal was a sea lion.
Homeowner Cathy Carpentier said Kumofur looked wet and fairly healthy, but scared.
"It was moving around quite a bit. It was looking at you with big brown eyes – gorgeous," Carpentier said, explaining police knocked on her door about 8:30 Thursday morning asking if she and her husband knew how the seal got here.
"There's a seal in your driveway. A seal. How do you comprehend that?" Carpentier said. "Occasionally we get raccoons, skunks, bobcats, but a marine animal? This is a first for us."
Kumofur was originally rescued in November 2015 at New Brighton State Beach in Capitola, California, according to Giancarlo Rulli from the Marine Mammal Center in Sausalito, where the seal was taken. After the malnourished pup was treated at the center, Rulli said she was released at Scotty Creek Beach in Bodega Bay, California, earlier in March.
Rulli said veterinarians will exam her to try to figure out why she might have made her way to Fremont, 100 miles away.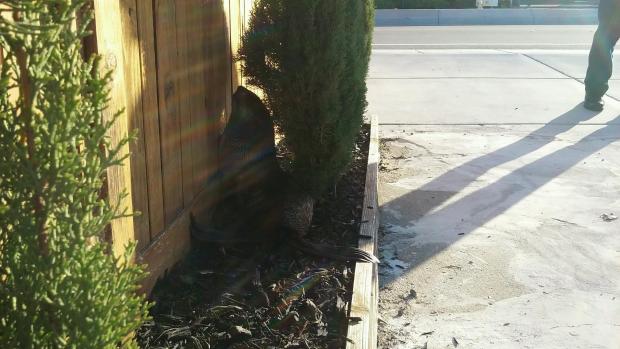 Fur Seal Found in Fremont Front Yard
A record number of mammals were found and rescued at the Marine Mammal Center in Sausalito last year, most likely, experts say, because of the Pacific Ocean weather phenomena called "The Blob" and El Niño.
A total of 107 fur seals were rescued by the center in 2015, three times the average. Dr. Whoriskey says usually during March, they are treating 15 to 20.
"We think that's because of warmer water conditions so these animals are having a harder time finding food," Dr. Whoriskey said.
Throughout California, other rescue centers are busy feeding high numbers of hungry mammals before sending them back into the ocean.
Overall, the National Oceanic and Atmospheric Administration said that from January to May 2015, California sea lion strandings were occurring 10 times more than average.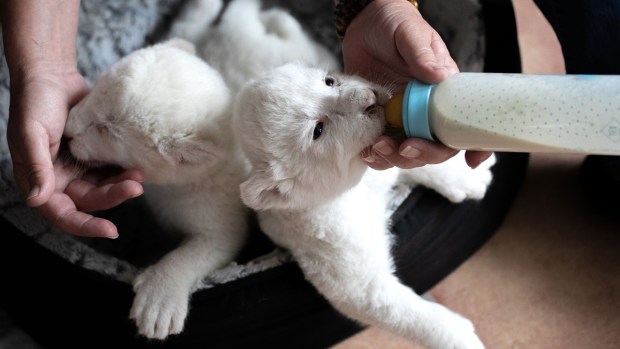 Adorable Zoo Babies: Meet White Lion Cubs Nala and Simba
A similar phenomenon occurred during California's last El Niño in 1997, when the death rate of seals hovered about 70 percent, compared to a normal rate of 45 percent.
Update - meet Kumofur, she is a 9 mo. old Northern Fur Seal. Orig. released in Bodega Bay headed so. instead of no. pic.twitter.com/Im905iGUUJ

— Fremont Police Dept (@FremontPD) March 24, 2016
Lost CA sea lion found in #Fremont on Osgood Rd this morning. @TMMC responding to the #TriCityAnimalShelter#Ozziepic.twitter.com/2QziGnVtQI

— Fremont Police Dept (@FremontPD) March 24, 2016
CA sea lion was located in front yard on 42300 blk of Osgood Rd. It is tagged. Rescuers nicknamed it #Ozziepic.twitter.com/68wd2zjD0J

— Fremont Police Dept (@FremontPD) March 24, 2016
The seal lion has been picked up by a volunteer with @TMMC - told more info will be available once seen by vet. pic.twitter.com/rQEeBAtKJi

— Fremont Police Dept (@FremontPD) March 24, 2016
As for 2016, Rulli said the number of strandings have not yet been tabulated. But he didn't expect them to be too high, because stranded seals usually happen shortly after birth, which would mean they would occur in the fall.
Rescued Northern Fur Seals