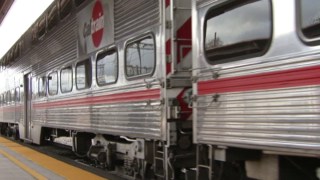 A Caltrain struck a man who was standing too close to the tracks near the platform of the agency's San Antonio station in Mountain View Wednesday morning, a Caltrain spokeswoman said.
The person was struck at 7:42 a.m. by southbound train No. 210 at the station at 190 Showers Drive. The person is alive and being taken to a hospital, Caltrain spokeswoman Tasha Bartholomew said.
Trains were initially stopped in both directions, but began single-tracking in the area with a 30 mph speed restriction as of shortly after 8 a.m., Bartholomew said.
Other trains in the system are being delayed up to 15 minutes, she said.
We are clear for max speed on both tracks once 210's backup crew arrives (very close). #Caltrain

— Caltrain (@Caltrain_News) September 23, 2015
#SB210 was involved in a pedestrian incident at San Antonio. Details to come. Expect delays. #Caltrain

— Caltrain (@Caltrain_News) September 23, 2015

A medical response is underway at San Antonio. #Caltrain

— Caltrain (@Caltrain_News) September 23, 2015