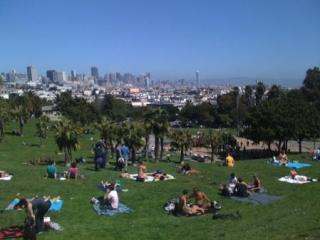 The north end of San Francisco's Dolores Park is set to reopen with a Recreation and Park-sponsored silent disco party.
"The flowers are in, the grass is down, the cement is set and we are ready!" Dolores Park Works wrote on its website.
The northern portion of the popular park closed for renovation in March, part of a $12.4 million restoration plan slated to last 15 months.
The overall renovation includes the installation of new bathrooms and a new recreational court in addition to rebuilding the tennis and basketball courts, redoing the irrigation system and building ADA accessible paths.
Participants in a silent disco are loaned wireless headphones through which they can hear music, but there is no amplified sound.
The event takes place from 3 to 7 p.m. on June 18; according to the Recreation and Park site, the first hour will consist of children's music. Reserve headphones by emailing rpdinfo@sfgov.org.