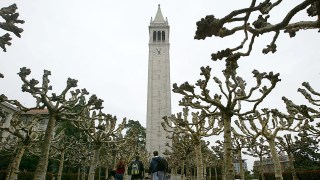 University of California at Berkeley officials Monday morning confirmed campus counsel Christopher Patti was killed in a hit-and-run crash in west Sonoma County on Sunday morning.
"I speak for the Berkeley community in saying how grief stricken we are at Chris Patti's untimely death. He was an extraordinary colleague," Chancellor Carol Christ said in a statement.
Patti began serving as UC Berkeley's chief campus counsel in 2010.
He was riding his bicycle on River Road in west Sonoma County west of Guerneville when he stopped on the right shoulder to look at his cellphone, California Highway Patrol Officer Jon Sloat said.
He was struck around 8:45 a.m. when the BMW driver lost control on a curve and slid across the road, Sloat said.
The driver continued west, turned around and drove back toward Guerneville, but a license plate was found at the scene, CHP officials said.
Jonathan Ritter, 28, of Rio Nido and Monte Rio, is considered a person of interest in the crash, Sloat said.
Russian River Fire Protection District crews responded to the crash and pronounced Patti dead at the scene, CHP officials said.
Patti also worked in the Office of the General Counsel at University of California's Office of the President from 1990 to 2010, specializing in litigation involving academic and student affairs, constitutional issues, class actions and other matters. He is survived by his wife and two sons, according to the school.