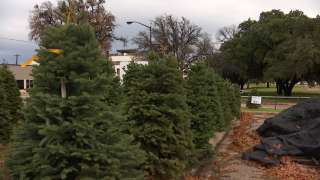 San Francisco residents looking to dispose of their Christmas trees are being asked to leave them next to their recycling bins on their regular collection day during the first two weeks of January.
San Francisco's Christmas Tree Collection Program is running between Saturday and Jan. 15, according to the city's Department of the Environment.
Residents are asked to place trees removed of decorations and lights alongside their bins before 6 a.m. on their regular collection day.
Trees more than 6 feet tall will need to be cut in half.
The collected trees will be chipped at Recology's transfer station and recycling center at 501 Tunnel Ave. in the southeast end of the city.
City officials held its annual ceremonial tree chipping event outside of City Hall on Monday to announce the collection dates.
"Treecycling is a great way to keep the holiday season green," Department of the Environment director Debbie Raphael said in a statement. "San Francisco's commitment to chipping Christmas trees means that hundreds of tons of discarded trees will be turned into energy, instead of taking up space in our landfills."
Aside from this program, the San Francisco Fire Department teamed up with goats from City Grazing to help folks dispose of a limited number of Christmas trees. There's only so many trees a goat can eat. City Grazing says it's accepting up to 20 trees per day on specified drop-off days, so better call ahead.
Those drop-off days are Dec. 27, Jan. 1-3, and Jan. 9-10, from noon to 4 p.m. Evening drop-off times are scheduled Dec. 30, Jan. 6 and Jan. 13, from 4 to 6 p.m.
More information is available at www.citygrazing.com, or by phone, (415) 642-7172.