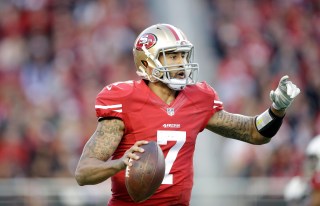 San Francisco 49ers quarterback Colin Kaepernick tweeted he meant "no disrespect" minutes after tweeting a link to an Instagram photo of major flooding in Houston with the comment "I warned you the #7tormscoming."
At least eight people have killed and 13 remain missing due to severe flooding in Texas.
Kaepernick deleted the insensitive Instagram photo within minutes of posting it but not before it was captured for posterity.
Kaepernick wildin pic.twitter.com/HXoDzS38bW

— Joshua (@JOSHYHENRIX) May 26, 2015
Kaepernick has used the #7tormscoming hashtag previously. It's a reference to his jersey number. He clearly had second thoughts about using it in this instance.
No disrespect intended! Prayers up!

— Colin Kaepernick (@Kaepernick7) May 26, 2015
Two hours after Kap tweeted that he intended no disrespect, he posted a more substantial apology, saying: "I'm so sorry about my insensitive post earlier today. I didn't fully understand how many people are struggling in Houston right now and I feel horrible. My prayers are with everyone there."