The man suspected of fatally shooting a 32-year-old woman on Pier 14 next to the San Francisco Ferry Building in broad daylight on Wednesday has been arrested, police announced Thursday.
Police said Francisco Sanchez, of Texas, apparently shot the woman at random, with no apparent motive.
Sanchez was out on probation, authorities said.
The victim, identified by the medical examiner's office as Kathryn Steinle, was found suffering from at least one gunshot wound to her upper torso at about 6:30 p.m. near the Embarcadero and Mission Street in the city's South Beach neighborhood, police said.
Woman Fatally Shot at Pier 14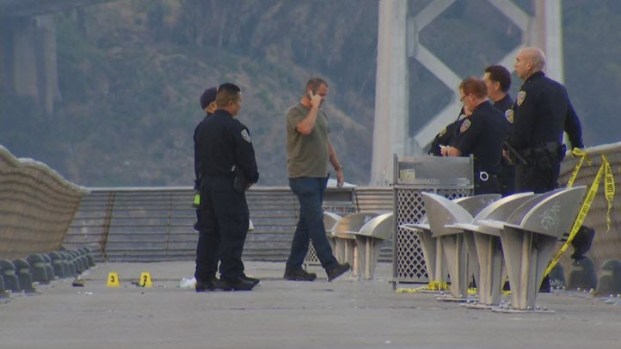 On Thursday, divers scoured the bay near the pier to look for evidence.
Police announced at a press conference Thursday afternoon the 45-year-old male suspect was arrested. Officers said Steinle was the victim of a random attack.
Steinle was transported to San Francisco General Hospital where she was later pronounced dead, according to police.
Steinle's family said Thursday they felt numb as they tried to cope with the shooting death of their daughter. According to family in Pleasanton, her father spent Wednesday with Kathryn in the city. They ate near the Embarcadero and then walked on Pier 14. Suddenly she was hit by gunfire.
Witnesses and her own father jumped in to try and save her but she died at the hospital.
"She was starting to be in her prime and had so much to live for and died so senselessly," said Kathryn's father, Jim Steinle. "It's terrible."
As soon as she was shot, Jim Steinle immediately started performing CPR on his daughter. Two crews of doctors tried to save his daughter. Her parents say their daughter fought to stay alive but she didn't make it.
"We have deep faith," Jim Steinle said. The family met with their minister Thursday and said their faith is getting them through.
"They've gotten the guy, but at least he won't kill somebody else," Kathryn's mother Liz Sullivan said. "Unimaginable, unimaginable."
In a statement from her employer, Medtronic, where she was reportedly a sales rep, senior director Fernando Vivanco said, "We are saddened and shocked by this senseless act. Our thoughts and condolences are with Kate's family and friends."
Bay City News contributed to this report.
#SFPD Seek Public Assistance in Robbery of News Crews: http://t.co/wC6wqyc8g0pic.twitter.com/buoIBVi0a1

— San Francisco Police (@SFPD) July 2, 2015