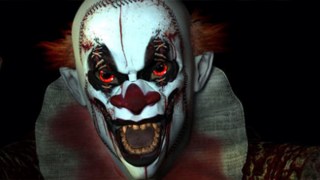 The "creepy clown" threat continued in the Bay Area Friday when a clown was reported seen in Fremont, police said.
Fremont police received at least one report of a clown sighting, but the clown was not acting suspiciously.
The appearance is another sighting and may be part of a social media "creepy clown" threat directed mainly toward schools in the Bay Area and across the country this year.
Also on Friday, schools in the Oakland Unified School District were placed on lockout after school officials decided the "creepy clown" situation was getting out of hand, a district spokesman said.
The lockout, which means officials at each school put strict controls on traffic and people coming in and out of the school, began at around noon and was lifted at 2 p.m.
District spokesman John Sasaki said the idea behind the lockout was to prevent anyone wanting to engage in "creepy clown" antics from coming on campus so teachers wouldn't be distracted.
Police in Richmond on Friday confirmed that a clown was seen around 2 p.m. Wednesday near Planet Fitness at 4925 MacDonald Ave., police spokesman Lt. Felix Tan said.
Tan said officers searched the area and did not find the person.
Police said the sighting and threats must be taken seriously and they want to assure residents they are aware of the effect on public safety.
The social media threats began earlier this year on the East Coast of the U.S. and have spread to the West Coast. Most of the threats have been hoaxes.
The clowns that have been seen have scared people but few have been dangerous.
But on Wednesday afternoon in Concord, police responded to a report that a "creepy clown" tried to kidnap a 1-year-old child from his mother.
The woman kicked the clown in the shin and the person fled.
The latest school district to issue a warning is the East Side High School District in San Jose and district officials asked students and residents to avoid responding to any threats made.
It's unclear whether threats have been made to schools in the district, but school officials will take any threat seriously and officials are on alert.
Schools officials have decided that for Halloween they will not allow anyone to wear a clown costume or any costume that hides the identity of the student.
Whether students will be allowed to wear costumes at all will be decided by officials at each school.
In Antioch, police were dispatched at 10:57 a.m. Tuesday to Dallas Ranch Middle School on a report of posts saying clowns were going to shoot at the school.
Burlingame police said they were made aware of posts claiming that people dressed as clowns were going to show up at Peninsula schools including some in Burlingame.
Similar threats have been made in other parts of the country, police said.
On Monday at around 7:45 p.m., threats were made toward schools in the Fairfield-Suisun Unified School District, Fairfield police said.
Fairfield police Lt. Rob Lenke said the threats received Monday night on Twitter said, "Be ready, we're coming to your school" and "We're coming to get you."
There were also specific references to a killing and a kidnapping that might occur at 10:30 a.m. Tuesday, Lenke said.