Two Bay Area swimmers (both U.C. Berkeley graduates) took home gold today at the London Olympics.
Both of the gold medal races happened in the swimming pool as U.S. men and women swimmers dominated.
Cal's Nathan Adrian took home gold with a stunning win in the 100m freestyle.
Cal's Dana Vollmer was part of the women's team in the 4x200m freestyle relay.
In the relay, anchor Allison Schmitt overcame a half-second lead by the Australians in the final leg of the race to lead her team to victory. Team USA's relay team, which included Missy Franklin, Dana Vollmer and Shannon Vreeland, clocked an Olympic record of 7:42.92 seconds, while the Aussies came in at 7:44.41.
This is Vollmer's second gold medal of the games. On Sunday, she won an Olympic gold medal in the 100-meter butterfly. During that race Vollmer also set a world record.
She made the Olympic team in 2004, but just missed a spot in 2008.
Vollmer graduated from Cal, but started college at the University of Florida. After one season she transferred here ultimately finishing her career as a Golden Bear with four NCAA titles along with a team championship. She graduated in 2009.
She is also gluten free after figuring out she was allergic in 2011.
View video of Vollmer's Olympics efforts at this link.
4 x 200 Freestyle Relay Final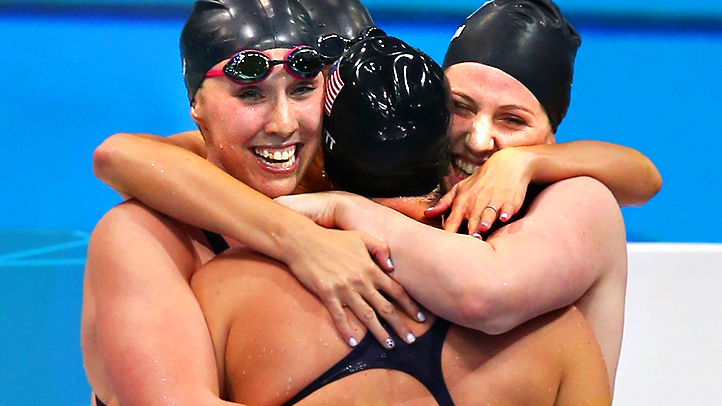 1. United States (Missy Franklin, Centennial, Colo., 1:55.96; Dana Vollmer, Granbury, Texas, 3:51.98; Shannon Vreeland, Overland Park, Kan., 5:48.83; Allison Schmitt, Canton, Mich., 7:42.92), 7:42.92.
2. Australia (Bronte Barratt, 1:55.76; Melanie Schlanger, 3:51.38; Kylie Palmer, 5:48.29; Alicia Coutts, 7:44.41), 7:44.41.
3. France (Camille Muffat, 1:55.51; Charlotte Bonnet, 3:53.29; Ophelie-Cyrielle Etienne, 5:51.34; Coralie Balmy, 7:47.49), 7:47.49.
4. Canada (Barbara Jardin, 1:57.96; Samantha Cheverton, 3:54.87; Amanda Reason, 5:54.19; Brittany Maclean, 7:50.65), 7:50.65.