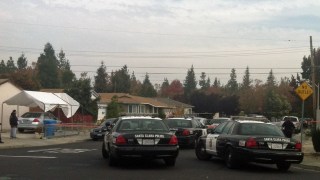 Santa Clara police on Wednesday said they were "deeply saddened" that one of their officers was arrested after allegedly stealing a $250 watch from a Target store in San Jose.
The Mercury News first reported that Officer Kiet Nguyen, a 24-year department veteran, took the unspecified smart watch at the Westgate Center shopping mall, San Jose police said.
San Jose Police Sgt. Enrique Garcia confirmed the arrest was on May 16, and the watch was valued at $249.99.
A loss prevention officer saw him removing a locking device with a magnetic key and wire cutters, San Jose police told the newspaper.
The loss prevention officers called police Nguyen was arrested for the two misdemeanors and released at the scene.
Nguyen held the rank of officer when he was cited. According to city documents reviewed by the Mercury News, he held the rank of detective sergeant at least as recently as 2012. The reason for the change of rank is not subject to public record.
Santa Clara Lt. Kurt Clarke emailed NBC Bay Area to say the department is "deeply saddened" about the arrest and that Nguyen is currently on administrative leave pending the outcome of the investigation.