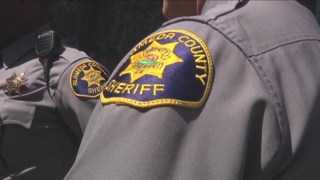 Authorities are searching for a suspect who fired shots at a ranch hand in a rural agricultural area near Interstate 580 near Castro Valley on Thursday, a spokesman for the Alameda County sheriff's department said.
The incident was reported around 3:15 p.m.
Sgt. Ray Kelly said sheriff's deputies and the California Highway Patrol have set up a large perimeter and are looking for the suspect in the vicinity of the 22000 block of Eden Canyon Road, about a quarter-mile north of I-580.
Kelly said northbound Eden Canyon Road is closed but other roads in the area aren't affected by the incident.
Kelly said the ranch hand was herding livestock in the area when he saw a man who was firing a rifle and he told the man to stop shooting.
However, the man raised his rifle and fired it at the ranch hand, who was about 150 yards away, Kelly said.
The ranch hand wasn't struck by the gunfire and he pulled out his own gun and fired back at the man in self-defense but missed the man, who then left the area, according to Kelly.
The ranch hand is cooperating with authorities and isn't being detained, Kelly said.
Deputies, CHP officers and two aircraft spent several hours searching more than 300 acres of steep, wooded terrain but were unable to locate the suspect.
They intend to continue investigating the incident as an attempted murder. Anyone with information about the shooting is urged to call investigators at (510) 667-7721.