United Airlines confirms that a dog died on a flight from Houston to New York-LaGuardia on Monday, after a flight attendant required the pet be placed in an overhead baggage bin.
"This was a tragic accident that should never have occurred," a United spokesperson said on Tuesday. The carrier's statement on the matter continued: "Pets should never be placed in the overhead bin."
Maggie Gremminger, who says she was aboard flight 1284, described an emotional scene when the plane landed in New York. She said the dog owner retrieved the pet carrier from the overhead bin and immediately realized her small, black French Bulldog had not survived the flight.
"It was just limp, lifeless," Gremminger said of the dog's body. "I can't stop seeing that image in my head."
Dog Dies After Being Placed in Plane Overhead Bin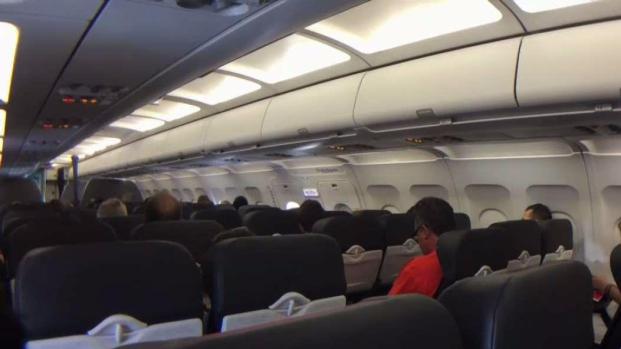 Gremminger says she was seated one row behind the pet owner. She recalled that during boarding, three hours earlier, a flight attendant believed that the Bulldog owner's pet carrier posed a safety hazard. It was taking up too much space on the floor underneath the seat in front of the pet owner. So, it had to go in the overhead bin.
Gremminger said the dog owner objected and explained that there was a dog inside the bag.
"She was very firm," Gremminger said. But "there wasn't a scene," she recalled.
Ultimately, the passenger complied with the flight attendant.
Gremminger said she could hear the dog barking a few times during the flight.
"Then it stopped," she said.
Dog Dies in Overhead Bin on United Airlines Flight
Chicago-based United said it was completing a full investigation of the events that occurred on flight 1284. However, the airline also accepted responsibility for the dog's death.
"We assume full responsibility for this tragedy and express our deepest condolences to the family and are committed to supporting them," the airline said.
United did not answer NBC Bay Area's questions about the employment status of the flight attendant, except to say that an investigation is underway. The airline also did not respond to questions about whether law enforcement had been involved.
It is unclear whether the results of United's investigation will be made public.
The labor union that represents United flight attendants, The Association of Flight Attendants, called the incident an accident.
"This was clearly a terrible accident," the AFA said. "There is not a single flight attendant working for any airline who would knowingly direct a passenger to put their pet in an overhead bin."
The episode highlights a quandary for airline customers. On one hand, a passenger might want to stand up to an out-of-line flight attendant; on the other hand, federal law requires passengers to comply with crewmember instructions. Violators can be removed from a flight and, in some cases, charged with a crime.
It is unclear what prompted the flight attendant on United flight 1284 to require that the dog be placed in an overhead bin.
Eighteen animals died in United's care in 2017, according to U.S. Department of Transportation data. The airline told the DOT that another 13 animals were injured during transit in 2017. The government data does not indicate how many pets were in the passenger cabin versus the cargo hold.
United carries more animals that any other U.S. airline, but animals die or are injured in its care at a rate more than four times higher than other airlines. According to the DOT data, United reported 2.24 incidents per 10,000 animals; other airlines averaged just .55 incidents per 10,000.
United's website says it is a "proud" member of the International Pet and Animal Transport Association. IPATA says it "was founded in 1979 to provide professional, competent and caring pet transportation."
A request for comment from IPATA was not immediately returned.
Gremminger said the flight attendant who had ordered the pet carrier be placed in the overhead bin on flight 1284 was shocked when she learned of the dog's death.
"She was frazzled," Gremminger said. "She tried to hug the woman."
Gremminger applauded United for its swift response – both by LaGuardia airport employees and at the corporate level. She said she hopes all airlines will learn from this tragedy and reexamine their training to ensure it does not occur again.