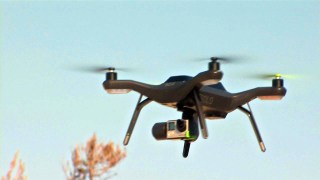 If you were gifted a drone this holiday season, you might want to reconsider flying it anywhere near the Golden Gate Bridge.
Officials with the highway and transportation district are installing new signs to remind would-be flyers that drones – no matter how cool – are prohibited from flying anywhere near the San Francisco landmark.
"Whether due to operator error or technical problems, drones can and do fail," said Dana Fehler, a communications specialist with the district. "When they drop from the sky, they pose great risk of causing traffic, bicycle, and pedestrian accidents, especially given the crowded conditions on the bridge and on district property."
Drones found flying in the area surrounding the bridge will be tracked and identified, and the operator may have the drone confiscated, district officials warned.
Officials also said the owner will be prosecuted, although the severity of punishment was not specified.
To check out where drones can be flown legally, visit the Federal Aviation Administration's list here.