Twenty-five protesters were arrested on Martin Luther King Jr. Day after blocking traffic on the Bay Bridge, according to the California Highway Patrol.
The CHP said protesters just before 4 p.m. Monday stopped their cars on the bridge, blocking all five westbound lanes just east of Treasure Island. Traffic was seen backed up for miles.
About 10 of the protesters chained cars together in a row to stop traffic on the bridge, police said. The demonstrators jumped out of vehicles and started marching and chanting. Others sat down in the lanes. The protesters were eventually taken away by CHP officers to be arrested.
Aerial Video: MLK Day Protesters Block Bay Bridge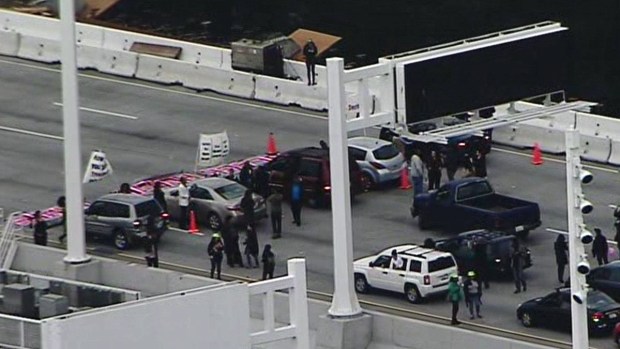 All 25 protesters arrested were booked into the San Francisco County Jail on misdemeanor charges of false imprisonment, public nuisance, unlawful assembly and obstructing free passage, according to the CHP.
All westbound lanes of the bridge reopened about 90 minutes after the protest.
Earlier in the day, protesters also interrupted traffic on an Interstate Highway 80 off-ramp in Emeryville, according to the CHP.
Members of protest groups Black Seed and the Black Queer Liberation Collective took responsibility for the protest in a statement, citing recent police shootings. "We are here to move towards an increase in the health and wellbeing of all Black people in Oakland & San Francisco," the groups wrote in a statement.
Images From MLK Day Protest on the Bay Bridge
They are demanding divestment of city funds in policing, investment in affordable housing, the resignation of Oakland Mayor Libby Schaaf, the termination of San Francisco police Chief Greg Suhr and Oakland police Chief Sean Whent and the termination of police officers involved inseveral recent shootings.
"The inconvenience you may have experienced today on the bridge -- imagine what it's like to have your life and your well-being continuously inconvenienced as a black person," said Mia Birdson, a Black Seed member.
Some of the protesters were seen being released from jail late Monday. No other information was immediately available.
The Powell off ramp from EB 80 is closed due to protest activity, expect heavy traffic in the area. #Emeryville

— CHP Oakland (@CHPoakland) January 18, 2016
#ReclaimMLK March continues through Emeryville. Crowd still strong after four miles of marching. #96Hourspic.twitter.com/twuobinR4i

— Occupy Oakland (@OccupyOakland) January 18, 2016
1. We are the ppl 2. A little bit louder 3. We want justice for all ppl #ReclaimMLK march @ Emeryville shopping dist pic.twitter.com/ln4daUIdOB

— Stacy Suh (@stacysuh) January 18, 2016
All lanes of traffic on Bay Bridge westbound are blocked #ReclaimMLKpic.twitter.com/qxrDqGP3ft

— Julia Carrie Wong (@juliacarriew) January 18, 2016
Five cars with chains and protesters block the Bay Bridge. Traffic is stopped. #ReclaimMLKpic.twitter.com/QmzgGR2gSu

— Julia Carrie Wong (@juliacarriew) January 18, 2016
Breaking: #BlackLivesMatter protesters have blocked the Bay Bridge west bound for #ReclaimMLKpic.twitter.com/2roLHQuAn4

— Julia Carrie Wong (@juliacarriew) January 18, 2016
WATCH: Police arrest #MLKDay protesters who were blocking #BayBridgehttps://t.co/nxIPBsc30Ihttps://t.co/BQO7N94eP2

— NBC Bay Area (@nbcbayarea) January 19, 2016
#BREAKING: Aerial video shows some of the Bay Bridge backup caused by MLK Day protest. https://t.co/PZKtLSDYCjhttps://t.co/AqyS8FZ9OZ

— NBC Bay Area (@nbcbayarea) January 19, 2016
#BREAKING LIVE VIDEO: MLK Day protester on Bay Bridge gives Black Power salute. https://t.co/5pEWlvbTzBpic.twitter.com/mmYBOHfZn2

— NBC Bay Area (@nbcbayarea) January 19, 2016
Approx 25 protesters from Bay Bridge protest taken into custody. They will be transported and booked into the SF County jail shortly

— CHP San Francisco (@CHPSanFrancisco) January 19, 2016
Bay City News contributed to this report.