An FBI operation dubbed "Gypsy Hill" will be canvassing neighborhoods to try and jog memories about a string of unsolved homicides from 1976.
At a press conference Thursday outside the Redwood City Courthouse, FBI special agent Gerald Bessette announced that the FBI will join forces with San Mateo County law enforcement agencies to knock on people's doors to see if they can pursue any leads that surface.
The task force is comprised of FBI agents, officers from the Daly City, Pacifica, South San Francisco and Reno police departments, and deputies with the San Mateo County Sheriff's Office.
The joint task force was formed to focus on the cases, which saw six women in their late teens or 20s mysteriously disappear and then were later found murdered.
Within the last few months, the FBI connected the killing of 19-year-old Michelle Mitchell, who disappeared in February 1976, to the five Peninsula crimes and formed the task force hoping to uncover new leads in the case.
Similarities between the murders include the time frame in which they were committed and the "modus operandi," or pattern of behavior, authorities said. They were all young women waiting next to a car or waiting for the bus, Bessette said.
Based on the forensic links between a number of the cases, the time frame of the murders, and the methods used by the offender to commit these crimes, investigators are confident all of the crimes were committed by the same offender.
"We have reason to believe the deaths are linked," Bessette said, describing the murders as "crimes of opportunity."
The first Peninsula victim was Veronica "Ronnie" Cascio, who disappeared from a bus stop in Pacifica in January 1976.
Tatiana "Tanya" Blackwell also disappeared that month; Paula Baxter went missing in February; Carol Lee Booth disappeared in March; and Denise Lampe was reporting missing in April that year.
The canvassing will start in the next couple of weeks. It will include neighborhoods where the victims were last seen and where their bodies were discovered.
Bessette described the joint-task force as an effort to bring the killer to justice and provide closure for the victims' families. "No tips or observations are too small for us," he said.
Anyone with information about the case is asked to call the FBI's tip line at (415) 553-7400.
More information on the specific cases:
On Jan. 7, 1976, 18-year-old Veronica "Ronnie" Cascio was last seen in the Fairway neighborhood of Pacifica walking from her home to the bus stop located at the corner of Bradford Way and Fairway Drive in Pacifica. Her body was found the next day at the Sharp Park Golf Course. This is currently being investigated by the Pacifica Police Department.
On Jan. 24, 1976, 14-year-old Tanya Blackwell left her home on Heathcliff Drive, Pacifica, reportedly walking to a 7-Eleven store located at King Drive in South San Francisco. Her body was located months later off Gypsy Hill Road in Pacifica, California. This is currently being investigated by the Pacifica Police Department.
On Feb. 4, 1976, 17-year-old Paula Baxter was last seen leaving the parking lot of Capuchino High School in Millbrae, California. Early the next morning her car, a bronze 1972 Chevy Vega station wagon, was located parked on a nearby residential street. Her body was found 2 days later hidden in the brush behind the Latter Day Saints Church on Ludeman Lane. This is currently being investigated by the San Mateo County Sheriff's Office.
On Feb. 24,1976, at approximately 8:10 p.m., 19-year-old University of Nevada-Reno student Michelle Mitchell's vehicle broke down at the intersection of 9th Street and Evans Avenue in Reno, Nevada. Someone assisted her in pushing the vehicle, a yellow, early 1970s Volkswagen Bug, into the parking lot located across from the UNR agricultural building on Evans Street. Her body was found that evening in the garage of a nearby home. This is currently being investigated by the Reno Police Department and Washoe County Sheriff's Office.
On March 15, 1976, 26-year-old Carol Lee Booth was seen walking from the bus stop on El Camino Real at Arroyo Street in South San Francisco towards her home. She was known to use a common shortcut across an open area between Kaiser Hospital and Mission Road near the former El Camino Driving Range. Her body was located months later hidden in the brush in the same area. This is currently being investigated by the South San Francisco Police Department.
On April 1, 1976, 19-year-old Denise Lampe left the Serramonte Mall in Daly City, California and returned to her vehicle, a 1964-1/2 Mustang, parked between Macy's and Denny's Restaurant. Her body was found that evening inside her vehicle at the same location in the mall parking lot. This is currently being investigated by the Daly City Police Department.
Laura Dudnick of Bay City News contributed to this report.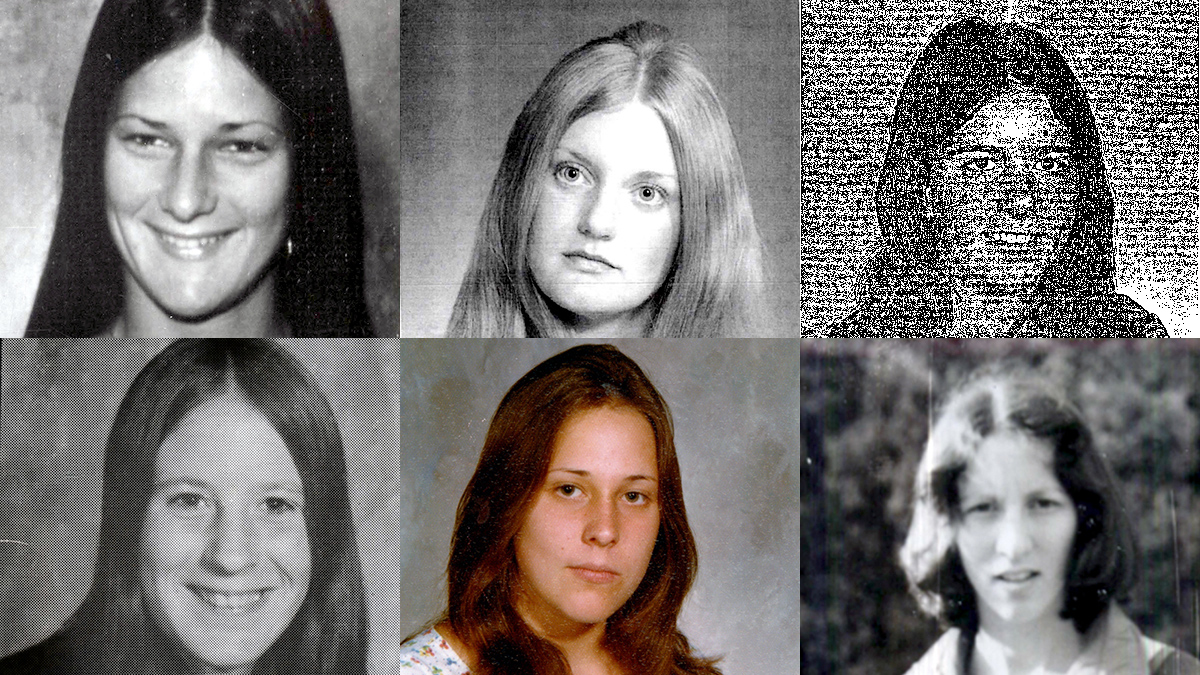 Clockwise from left, Denise Lampe, Michelle Mitchell, Paula Baxter, Veronica "Ronnie" Cascio, Tanya Marie Blackwell and Carol Lee Booth "Beedy". All six women disappeared mysteriously in 1976.