A baby is clinging to life after being shot in the head Monday night in West Oakland.
The one-year-old boy, named Hiram Lawrence, is one of eight people injured in the shooting.
Surveillance video shows shots being fired as a crowd gathered outside of a liquor store on Willow Street, just after 6 p.m. The video also shows at least one victim firing back at the suspects.
Oakland police said they are not getting a lot of cooperation from witnesses.
8 People Shot During Reported Video Shoot in Oakland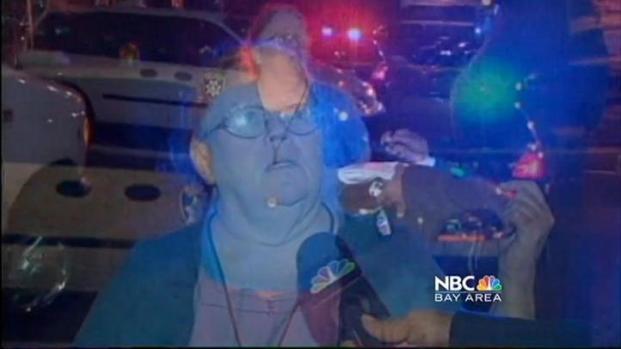 "They're not as cooperative as we'd like them to be. That's why we're trying to stand together and actually motivate and get cooperation, not just from the victims but witnesses at the scene," Sgt Randy Wingate said.
Initial reports indicated the crowd was filming a music video for the Oakland-based rapper Kafani.
NBC Bay Area spoke to the rapper on the phone early Friday morning.
Kafani says the crowd had gathered outside the liquor store to film a music video, but he was not involved, nor present, during the filming.
The rapper said the little boy who was the most serious injured was Hiram Lawrence, his cousin's son.
Kafani says his cousin, "had his son in his hands, and somebody started shooting … I think the bullet that hit him in the hand is what hit his son in the head."
Kafani tells NBC Bay Area the little boy went through surgery overnight at Children's Hospital in Oakland to relieve swelling in his brain.
The rapper describes the little boy as energetic and innocent.
He says the boy's father was very attentive to the little boy's needs.
"He would take his kid, bring him to the studio, he'd have him with him all day," says Kafani. "He always wanted to have his son with him. He always kept his son with him."
As for the other victims, their conditions are unknown – though police say their injuries did not appear to be life-threatening.
Investigators are trying to find several possible shooters.
So far, police have not released details about the suspects or a possible motive.
At a news conference at police headquarters Tuesday afternoon, Oakland Mayor Jean Quan called the shooting "a senseless and cowardly act."
She noted that since last night, police from the Oakland Housing Authority and federal and state law enforcement partners have increased their presence in the neighborhood where it happened.
Quan said the shooting took place in area that is covered by her 100 block initiative. The area covers less than 5-percent of the city but is responsible for 90-percent of the shootings and homicides.
Councilwoman Nancy Nadel said the shooting showed "a terrible disrespect for human life," and represents "gangsterism and a culture of violence, and we've got to change that."
Police and Quan called on witnesses to the shooting to contact police.
"There were plenty of people in that parking lot, and we need people to come forward," she said.
Anyone with information on the case is asked to call or send a text message to (510) 773-2805.

Bay City News contributed to this report.