The family of a man who died in an officer-involved shooting at a barbershop in San Francisco back in March is expected to announce a lawsuit against the police department Thursday morning.
Jehad Eid's family is expected to announced the lawsuit at 11 a.m. in front of San Francisco City Hall. Details of the lawsuit were not immediately known.
Eid, a 21-year-old Suisun resident, was inside the Amazon Barber Shop on March 21 when he exchanged gunfire with officers, according to the shop's owner. Eid later died from his injuries, police said.
Multiple people, including a San Francisco police officer, were injured in the shootout.
One Dead in Officer-Involved Shooting: SFPD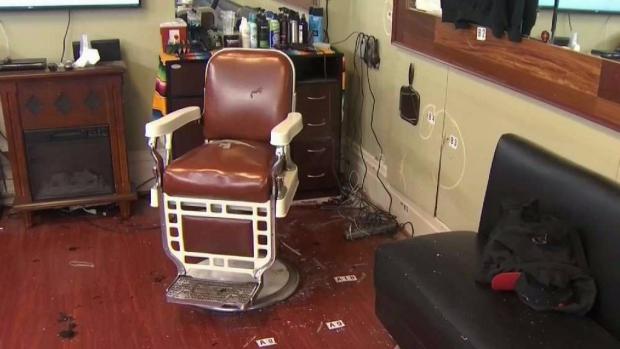 Officers responded to reports of a man with a gun in the 200 block of Amazon Avenue, near the Outer Mission and Crocker-Amazon neighborhoods, at around 4:30 p.m. on the day of the shooting, San Francisco Police Department Chief William Scott said.
The barbers told NBC Bay Area that they had never seen Eid before he entered the shop.
Police said Eid's family called 911 and said he had a gun and tried to break into a garage. Police later spotted Eid at the barbershop and said he fired at authorities nine times. Officers fired roughly two dozen shots.
The owner of the bullet-holes-ridden barbershop, Vladimir Shtynberg, told NBC Bay Area that two of his barbers were injured in the shooting, but they were expected to recover.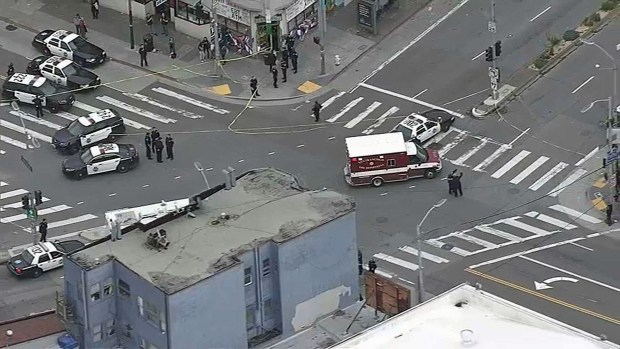 SF Police Officer Wounded in Shooting
A video of the shooting posted on Instagram shows an injured police officer crawling outside the barber shop, police surrounding the area and another injured man taking cover at a pharmacy next door.
Naiel Nasrah, the manager of Daniels Pharmacy next door, said he heard several gunshots, ran up the stairs and saw the injured barbers running inside the store.
Nasrah said he was worried about everybody in the neighborhood because his family works at the pharmacy.
"Everybody in here's tight knit," Nasrah told NBC Bay Area after the shooting. "Everybody here knows the pharmacy and the barbershop."
The Amazon Barber Shop has been around for over 100 years, according to Shtynberg, and Daniels Pharmacy opened its doors to the neighborhood in 1949, Nasrah said.
Cop, 5 Others Injured in Officer-Involved Shooting: SFPD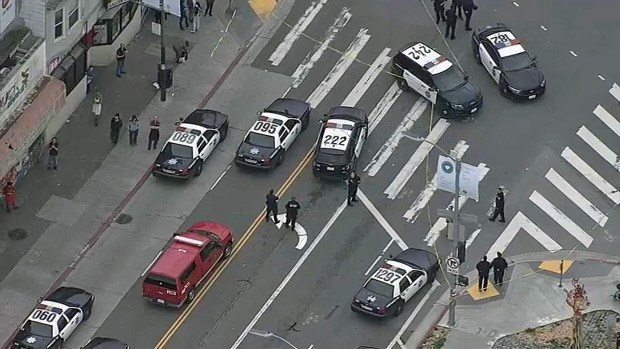 Another video captured by J&J Hardware store's surveillance camera shows a group of police officers walking into the barber shop, and shortly after, the gunfire that followed.
One witness, Marvin Totah, said the suspect "wasn't looking at where he was shooting" and he could have "ended up hitting everybody else."