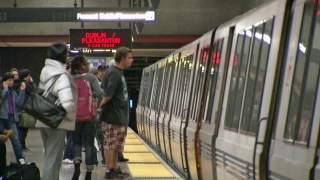 A female was reportedly struck in the face with a skateboard while she was at the Embarcadero BART station Saturday afternoon, according to the transit agency.
The victim sustained minor injuries, according to BART.
One suspect in the case was described as being a 19- or 20-year old man, 5 feet 7 inches tall, with a medium build and short, dark hair, according to BART. He was said to be wearing a black, puffy jacket.
A second suspect who "tried to batter" the victim was described as being an older teenager, 5 feet 4 inches tall, with a skinny build. He was reportedly wearing a white shirt, blue hooded jacket, baggy, blue jeans, and a multi-colored baseball hat.
Further information was not available.