After a brutal day of long lines and nightmare traffic Thursday, BART service resumed service between San Francisco and the East Bay, nearly 14 hours after a nearby fire in Oakland melted some of its tracks and damaged equipment.
The first Transbay train started rolling just before 4 p.m., following a suspicious early-morning fire at a nearby senior apartment complex, now under investigation by the Bureau of Alcohol, Tobacco and Firearms.
While the trains started rolling before the crush of the evening commute, BART service was slower and less frequent than usual, though spokesman Jim Allison promised the goal was for everything to return to normal by Friday morning. Crews worked all day to fix an electrified third rail and replace up to 40 insulators, both damaged by the heat of the nearby fire.
About dinnertime, the Embarcadero station in San Francisco was packed with commuters, some coming and going from a Giants game and the U.S. Open.
The BART stoppage forced thousands of morning commuters to hop in their cars, board AC Transit buses, which ran an hour later than usual, take the ferry, where there were four times the normal customers, or simply stay home. On a typical day, almost 185,000 riders use the Transbay Tube.
"This is ridiculous," one would-be San Francisco BART commuter told NBC Bay Area. He had a test to take and couldn't make it. "I should have just stayed home and faxed the test in, " he said.
BART officials said the service got back on track just before 4 p.m. Thursday. Trains ran in and out of San Francisco but at reduced speeds.
Troubles for BART began when a three-alarm blaze was reported about 2 a.m. at a nearby construction site at the Red Star Senior Apartments at Seventh Street and Mandela Parkway.
Security guard Abdul Hussein was patrolling the complex for Command International Security Services, and saw three people hanging out at the construction site just before the fire, according to Kim Newbill, an office manager for the Van Nuys company. Hussein asked the men what they were doing on the property, and shone a flashlight at them to see what was going on. He told the men to leave, and that one of the man "had something in his hand," Newbill said.
Hussein turned to leave to report the incident by texting his boss. Moments later the blaze erupted. That's when Hussein called 911.
Hussein declined to be interviewed about what happened, Newbill said, because he was too shaken up.
Oakland Fire Battalion Chief Lisa Baker confirmed that investigators are looking into the fact that people were trespassing on the senior center construction site, and asked that if anyone has information, they should call the arson hotline at 510-238-4031. As of late Thursday afternoon, the ATF joined in the investigation.
The fire from the site was so hot that its flames melted some nearby track and equipment, such as insulators on BART's electrified rail, which crews worked hard to repair all day.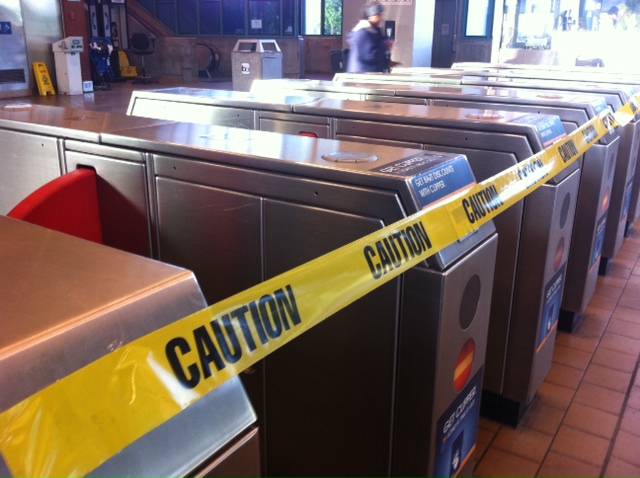 As a precaution in the morning, PG&E shut down service to nine customers in the area of Fifth Street and Mandela Parkway, PG&E spokesman J.D. Guidi said.
BART trains running from Daly City to Fremont and to Richmond were scheduled to run an hour later, until 8 p.m.
AC Transit scrambed to pitch in with extra buses to help take some of the stranded commuters at the MacArthur BART station and at the 20th Street transit station near BART's 19th Street stop in Oakland, AC Transit spokesman Clarence Johnson said. Long lines of commuters formed at bus stops, in hopes of getting to their destinations.
Ironically, BART had planned an emergency drill to occur on Thursday, but scrapped the mock drill, when the real-life emergency occurrred.
Early in the day, traffic was a mess, and so were the lines of people stranded at BART stations.
Here is a video of what the fire looked like: