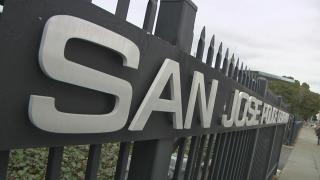 Five men who claim they were unfairly targeted by San Jose police in a gay sting operation have sued the city, Chief Edgardo Garcia and seven officers in federal court for allegedly violating their constitutional rights.
According to the lawsuit, filed in U.S. District Court in San Jose on Nov. 8, the five men were each arrested in or near the city's Columbus Park in 2014 and 2015 after undercover officers posing as gay men asked them to engage in sex in a public restroom.
They were charged in Santa Clara County Superior Court with the misdemeanor of loitering near a public restroom for the purpose of engaging in or soliciting lewd acts.
In 2016, the criminal charges were dismissed by Superior Court Judge Jose Franco, who said that targeting gay men and while ignoring similar conduct by heterosexuals was discriminatory.
The federal civil lawsuit alleges that police violated the men's constitutional Fourth Amendment right to be free of unreasonable seizure and their Fourteenth Amendment right to equal treatment.
It asks for financial compensation as well as an injunction barring San Jose police from targeting, harassing or arresting men who seek "non-monetary intimate association with members of the same sex."
Representatives of the San Jose Police Department and City Attorney's Office were not immediately available for comment.