A power outage at the Valero refinery in Benicia triggered flaring and dense black smoke, prompting a shelter-in-place and evacuations in the city for a couple of hours Friday morning.
Power has since been restored. In addition, all shelter-in-place and evacuation orders have been lifted. Environmental Protection Agency and Air Quality officials were still monitoring the incident late Friday.
A PG&E power disruption around 6:30 a.m. caused thick plumes of smoke to waft into the nearby Industrial Park, according to Valero spokeswoman Lillian Riojas.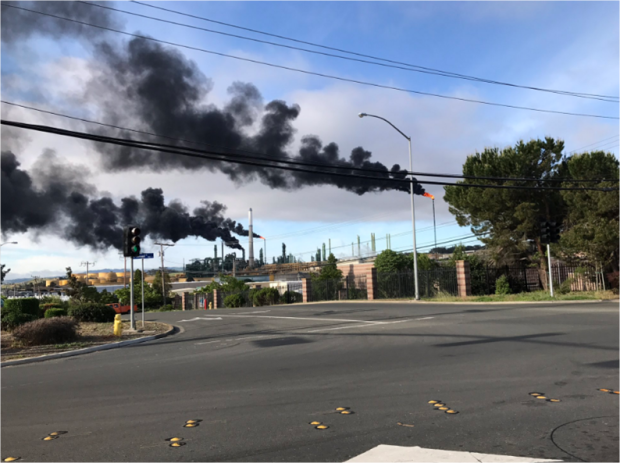 Flaring at Valero Refinery Triggers Evacuations in Benicia

Benicia Fire Department Chief Jim Lydon said his agency was notified at 6:45 a.m. that flaring would begin. At 7:30 a.m., the situation escalated and Valero advised the fire department to begin evacuations, Lydon said.
The flaring could be seen from miles, some Twitter users said, while others complained that they were struggling to breathe.
Police urged people to keep the doors and windows of their homes closed and bring pets inside. A shelter-in-place order was lifted, except for Matthew Turner and Robert Semple elementary schools, police said on Twitter around 9 a.m. Evacuations for the city were lifted by 9:20 a.m.
Displaced people were able to take shelter at the Benicia Community Center at 370 E. L Street. Entrances to the park have been closed, including off-ramps from Interstate 680.
RAW: Flaring at Valero Refinery Prompts Evacuations in Benicia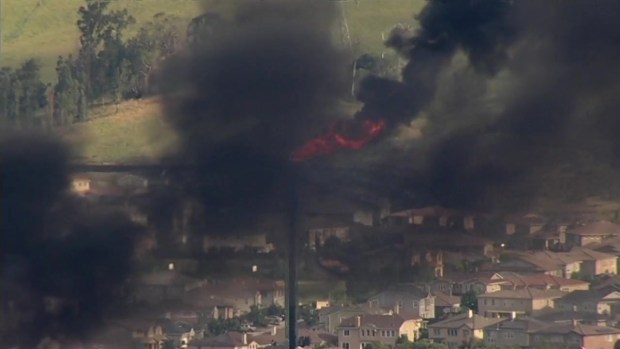 EPA officials said at a news conference that the level of hydric sulphide and sulphur dioxide — typical near a refinery — peaked at "up to 10 times normal background" on Friday morning. The city's response was appropriate, officials confirmed.

Bay Area Air Quality District inspectors were at the refinery just before 10 a.m. guiding first responders. Valero and the Petrochemical Mutual Aid Organization are also monitoring the air quality.
As a precaution, the California Highway Patrol briefly closed I-680 in Benicia. Northbound traffic was diverted to westbound Interstate 780 and southbound cars were directed to the Lake Herman exit. The freeway has since been reopened.
Valero Refinery is experiencing a power outage. This is causing flaring & smoke from the stacks. Valero has advised no cause for concern.

— Benicia Police (@BeniciaPD) May 5, 2017
Any business/structure down wind from the Valero should evacuate and avoid the area.

— Benicia Police (@BeniciaPD) May 5, 2017
Benicia Refinery burning off harmful chemicals and NOT notifying neighboring residents and businesses to evacuate. pic.twitter.com/gfKcpz8cCU

— Victoria K. R. Leong (@heytooor) May 5, 2017
@kron4news the smoke is thick and causes heavy breathing. pic.twitter.com/0qaU2xxD1W

— Ace (@Space_Ace3) May 5, 2017
Outside. The Valero Refinery is on fire in Benicia. pic.twitter.com/dgk8zvbFLe

— Christopher Douglas (@BrothaDoug) May 5, 2017
Photo of the refinery flare up in Benecia pic.twitter.com/BYKWKkuxlK

— Ed Zuchelli (@EdZuchelli) May 5, 2017