A former gang member plans to file a claim against Santa Clara County after he says correctional deputies beat him at the Main Jail.
The claim, expected to be filed on Thursday, comes as the sheriff is investigating the beating death of another inmate.
Ruben Garcia he said two correctional deputies beat him in July while he was in the Main Jail on drug charges.
"I'm still completely numb," Garcia said. "They threw me down, hit my face on the corner of the bed. I don't know if that broke my jaw."
Former Gang Member Says Correctional Deputies Beat Him; Plans to File Claim Against Santa Clara County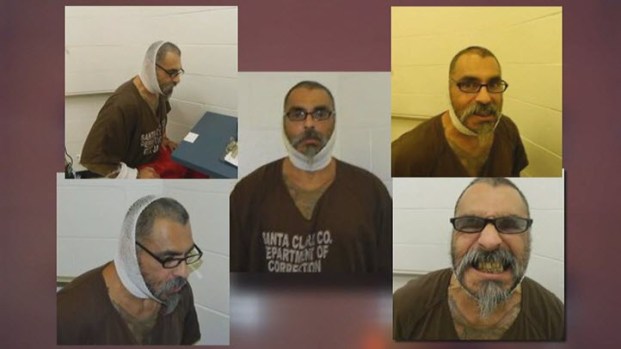 Garcia said he did not report the incident because he was afraid.
"Quite frankly, I didn't want to get beat again," he said.
Garcia admits he fought with an inmate the next night. He also said he heard deputies beat inmate Michael Tyree to death in August.
"I heard him screaming for help," Garcia said.
Garcia said when a detective questioned him about the Tyree case he told investigators deputies beat him.
In a statement, the sheriff's department confirms that part of Garcia's story.
"The detective informed his superiors and an investigation was initiated into Mr. Garcia's allegations and that investigation is active and ongoing," Sheriff Laurie Smith said in a statement. "Upon conclusion of the investigation the Sheriff's office will make a determination as to the appropriate course of action. So as not to jeopardize the investigation, I am unable to provide any additional information at this time."
Attorney Robert Powell is filing the claim for Garcia against Santa Clara County and two correctional deputies with the last names of Dario and Le.
Powell believes violence against inmates is routine inside the jail.
"Getting to the point where a man is beaten to death by three officers doesn't happen overnight," Powell said. "It's a long running problem."
Powell said he working with another inmate with a similar story and expected to file additional claims.
Garcia said he has witnessed multiple beatings and wonders if he could have save Tyree's life.
"I felt guilty," Garcia said. "If I would have reported what happened to me, Michael might still be alive."
Garcia's accusations adds to concerns over training after three county deputies were accused of beating Tyree to death.
The Board of Supervisors have also formed a 25-member Blue Ribbon Commission in response to Tyree's death. Former San Jose independent police auditor LaDoris Cordell will helm the commission charged with investigating the troubled Santa Clara County Jail.