Eric Auffhammer got to shake hands and chat with President Obama this week.
No, the Gilroy father is not a national science champ. And he doesn't wear a World Series ring.
He's a 39-year-old captain in the Air Force, and when the president's plane touched down at a U.S. military base in Afghanistan in a suprise visit early Monday, Auffhammer was there to shake his hand.
"It was a very surreal experience, something that I wasn't really expecting. It was very exciting for me," Auffhammer told NBC Bay Area in a Skype interview from his base overseas on Thursday. "He basically said 'Sir,' which caught me off guard. It was a very humbling experience."
The president thanked Auffhammer for his service and that "was the extent" of their conversation.
Auffhammer, father of four, coordinates purchases for the Air Force as a contracting officer for Defense Contract Management Agency at Lockheed Martin in Sunnyvale.
His wife, Myken, and his four children -- Aaron, 20, Christian, 18, Austin, 16, and Marijka, 11 -- are waiting for him at home in Gilroy. Actually Aaron, who is in the Air Force himself, is headed out to serve in Afghanistan with his dad in a few months.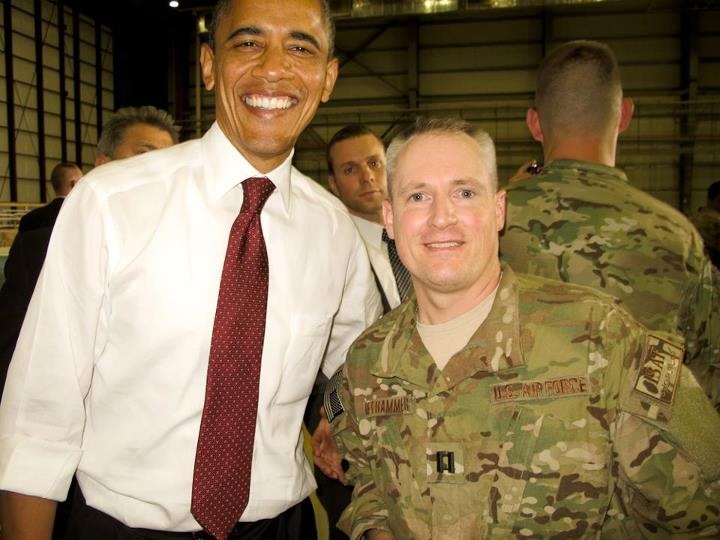 Myken Auffhammer said her husband was on cloud nine after the presidential visit. But she only learned about it when her husband posted a photo of him and Obama on Facebook the following day.
"I had no idea," she said. "But he was ecstatic when I talked to him."
Auffhammer said that he's met another president during his long military service career: George Bush Sr.
But Auffhammer didn't dare compare or contrast the presidents or divulge his politics.
Contact Lisa Fernandez at 408-432-4758 or lisa.fernandez@nbcuni.com. Follow her at Twitter.com/ljfernandez.
Published at 2:42 PM PDT on May 3, 2012 | Updated at 5:07 PM PDT on May 3, 2012