With the rise of popularity in Facebook, Twitter and all-thing-digital, police agencies - especially those located in the heart of tech-friendly Silicon Valley - are turning to social media to help them solve crimes.
There are plenty of examples. But the latest and most high profile use of social media and law enforcement recently in the Bay Area stems from Sunday night in San Francisco, when a freelance Chronicle photographer took an image of a man bashing a barricade into a Muni bus, after the Giants swept the Detroit Tigers in the World Series. (See photo above.)
Someone clicked and saved the image from the news site, then posted it on Facebook. That's when the image went viral, shared, retweeted and broadcast countless times.
Soon afterward, San Francisco police arrested Gregory Tyler Graniss, 22, of San Francisco on felony vandalism charges.
SFPD Seek More Suspects Following Giants Vandalism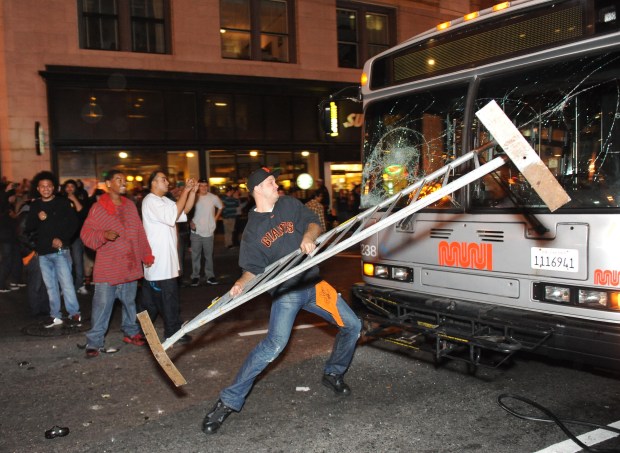 And even though police didn't directly credit Facebook use for the arrest, they did note that the public was instrumental in helping to identify the suspect.
Then on Wednesday, SFPD released a video of two suspects torching another $700,000 Muni bus at Third and Market streets. Police Chief Greg Suhr said he hoped his department would receive the same social media help in finding out who did it.
Mountain View Lt. Chris Hsiung is one cop who knows about the benefits of social media and policing.
In fact, his primary job now is being the "social media czar" for the city's police department.
He tweets photos of traffic patrol hot spots, he uses Facebook, Pinterest and Google plus. Yes, Google plus.
In fact, on Thursday, he posted a reminder that on Friday, the Silicon Valley Animal Control Authority will be providing animal care in Mountain View.
And on Oct. 25, Hsiung tweeted out a YouTube video of a suspect who wielded a knife in a convenience story, hoping someone would recognize him and a woman he entered with. Media outlets, including this one, picked up on the tweet and wrote and aired stories on it.
Using social media shouldn't be a crutch, though, Hsuing warned. Good, old-fashioned policing skills are still needed. It's just that the "old school should mesh with technology so that policing can be much more efficient."
If Hsuing is the only, or among the few, social media cops out there now. He probably won't be for long. Many departments use social media in one way or another, even if they don't have the resources to dedicate a single officer - or lieutenant - to the job.
Hsiung has a meeting with the year-old Bay Area Law Enforcement Group to talk about best practices. Police from Fremont, Sunnyvale, Redwood City and others are some of the leaders of that group. Where are they meeting? At Facebook headquarters in Palo Alto, of course.
To follow the Mountain View police department on Twitter,YouTube, Facebook,Pinterest,Google plus, click on these links.
Contact Lisa Fernandez at 408-432-4758 or lisa.fernandez@nbcuni.com.