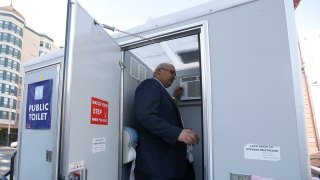 A San Francisco city official and a mayoral candidate have sounded off about how to help the problem of public defecation in the wake of Mayor Ed Lee's public stance on homeless people making themselves scarce for the NFL.
Mayor Ed Lee has made headlines for saying "the homeless must leave the street" when the Super Bowl comes to the Bay Area next year, prompting city officials and would-be rivals to publicly wonder if there might be less-extreme ways to combat the problem of public defecation.
In a video posted to SFGate, mayoral candidate Stuart Schuffman noted that the city would need 500 public toilets that are open 24 hours a day in order to meet the bathroom needs of both homeless people and tourists wandering around town, but that there are only 200 public bathrooms "tucked away inside libraries, parks and civic buildings." Eighty-eight bathrooms aren't open past 6 p.m., and only 28 are open 24 hours a day.
Schuffman suggested that the city should open up the hours of those 200 public bathrooms, invest in new ones and work to incentivize businesses to allow the public to use their restrooms in exchange for a benefit such as a tax break.
In an article posted to Medium on Thursday, San Francisco Supervisor Scott Wiener said that laws such as the prohibition of urinating or defecating in public aren't enforced well enough by the SFPD.
"All too often, enforcement is sporadic — enforcement on day one in X location, enforcement on day two in Y location, followed by no enforcement for a while, then a re-initiation of the cycle. Moreover, much of the enforcement is complaint-driven, dependent on residents calling for help, rather than proactive. The result is not much enforcement and a problem that simply moves around," he wrote.
Wiener also noted that the city has $230 million per year to spend on homeless services, so it isn't for lack of resources. "Our street behavior problem thus persists, festers, and gets worse," he wrote. "Our $230 million a year needs to be coupled with a clear message: these behaviors will never be tolerated in any location in San Francisco at any time."