A federal grand jury on Thursday charged a 32-year-old hunter from California with starting the Rim Fire – the largest fire in the Sierra Nevada Mountains in recorded history.
The 2013 blaze burned more than 250,000 acres for nine weeks, including large areas of Yosemite National Park and Stanislaus National Forest.
It is the third-largest blaze in California history.
The indictment charges that on Aug. 17, 2013, Keith Matthew Emerald of Columbia, California, kindled a fire in the Stanislaus National Forest and allowed the fire to spread beyond his control.
Temporary fire restrictions were in place at the time of the fire. Emerald is also charged with lying to a federal agent when he told them he did not set the fire.
A call to his attorney, federal public defender Janet Bateman, was not immediately returned. Prosecutors said no court date has been set for his arraignment.
Authorities previously said the wildfire was started by an illegal fire set by a hunter, but they withheld the hunter's name pending further investigation.
Court documents show Emerald was rescued by helicopters from the extremely remote Clavey River Canyon area of the Stanislaus National Forest near the origin of the Rim Fire about an hour after the fire was reported. Emerald, who was carrying bow hunting equipment, told authorities he had been on a solo hunting trip.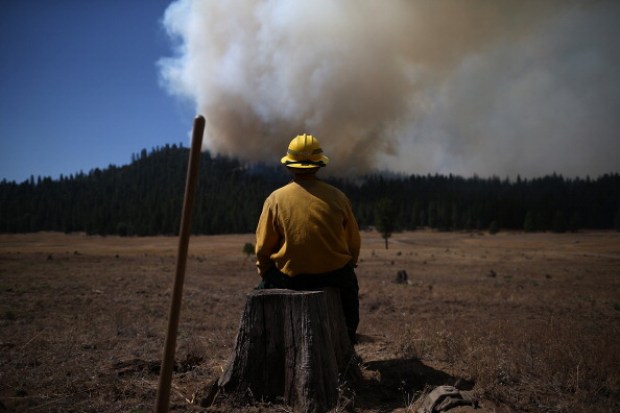 Rim Fire Rages in Yosemite Park
Investigators said Emerald, who has not been arrested, has at times admitted to starting the fire and other times denied it.
He initially told investigators that he caused a rock slide that sparked the fire, according to a search warrant affidavit for sites, including his house. He then allegedly suggested it was started by marijuana growers in the area.
After multiple interviews, he acknowledged starting a fire and cooking a meal. He burned trash from his backpack, but some of the embers blew uphill and set the brush on fire, he allegedly told investigators in a handwritten statement with some misspellings.
"After cooking a meal and burning the rest of my trash, some embers were blown up the hill and caught the brush on fire," he wrote. "The terrain was almost vertical, so I phisically [sic] couldn't put it out."
He expressed concern about possible community retaliation if his name were disclosed.
The costs of fighting the fire totaled more than $125 million.
"The impacts of the Rim Fire on our public lands will continue for years to come," said Regional Forester Randy Moore. We're still dealing with hazardous trees and erosion."
If convicted of setting timber afire or false statements to a government agency, Emerald could face a maximum statutory penalty of five years in prison and a $250,000 fine for each count. Leaving a fire unattended and violating a fire restriction order each carry a maximum penalty of six months in prison and a $5,000 fine.
"The Rim Fire was one of the largest in California history and caused tremendous economic and environmental harm," U.S. Attorney Benjamin Wagner said. "While those harms cannot be undone, today we have brought criminal charges relating to the cause of that fire."
The charges were the result of an investigation by the U.S. Forest Service and the Tuolumne County district attorney's office, Wagner said.
NBC Bay Area's Riya Bhattacharjee and The Associated Press contributed to this report.

Published at 3:27 PM PDT on Aug 7, 2014 | Updated at 4:23 AM PDT on Aug 8, 2014