The thumping dance beat and soaring voices might've sounded like any ordinary gathering of ladies in celebration. But the sight of the group decked-out in matching orange jumpsuits quickly threw that imagery into a tailspin.
More than two dozen women lined-up, as if taking part in a Texas line dance, and began imitating the instructor in a series of dance moves. The scene played out Thursday morning in San Francisco County's women's jail.
"Just because I'm locked up doesn't mean my body locked up," said inmate Latanya Webb, wiping the sweat from her brow.
The event was part of the One Billion Rising global dance event, aimed at raising awareness for the issue of domestic violence.
The group staged identical events around the world, with people performing choreographed dance routines to a song called Break the Chains.
VIDEO: Watch the inmates dance
"Everybody is dancing to the same song… and we're doing the same moves," said Rachel Irwin of the group Dancing Without Borders. "So there's this power moving through the world right now. That is going to create a shift."
There was plenty of shifting going on as the women launched into an synchronized dance routine that would do YouTube justice.
Irwin was well aware of the symbolism of women behind bars taking part in a global event. "I feel like I'm connected to the people outside who's also doing this dance," said Webb. "So that makes a difference."
San Francisco Sheriff Ross Mirkarimi invited organizers to stage the event inside the jail after he wasn't invited to San Francisco's official One Billion Rising event at Civic Center. As Mirkarimi walked into the women's jail where the group was dancing, he was surrounding by the inmates chanting "go sheriff."
"I always said it's important to take responsibility," said Mirkarimi, whose wife Eliana Lopez danced with the inmate group.
"I always said it's important to understand what the power of redemption means." The formidable power of dance redemption was also spinning its restorative magic in the San Bruno County Jail where male inmates in the Resolve to Stop the Violence Program gathered on a windowless basketball court to perform a similar dance.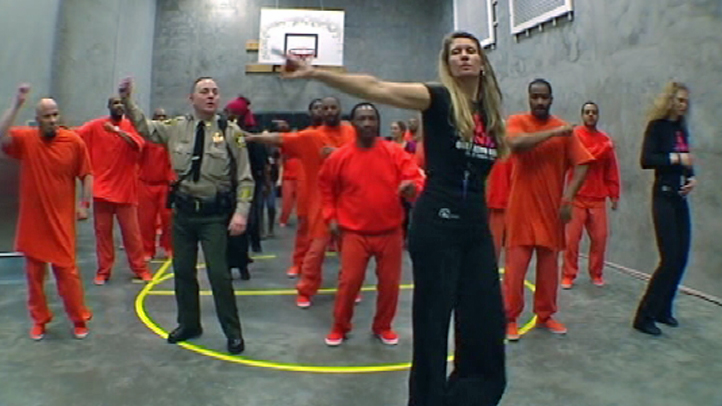 The men, many sporting gang tattoos, followed the lead of a female instructor, heeding commands to roar like a lion before launching into the dance number. A uniformed Sheriff's captain joined the group, as did some of the support staff. "We're having fun doing it man," said inmate Tony Scott.
We're supporting all the women out there. We letting them know we got their back."