Berkeley police on Monday continue to comb through video footage of violent and bloody melees that broke out over the weekend between supporters and detractors of President Donald Trump.
As of Monday, at least 20 people had been arrested for their roles in the opposing rallies, marred by people exchanging punches, burning flags, spraying pepper spray and lighting fireworks.
Hundreds of people gathered at Martin Luther King Jr. Civic Center Park around 10 a.m. on Tax Day as did Berkeley police officers — in riot gear. Police estimate that the crowd swelled to between 300 and 700 people before it dissipated around 4 p.m.
Early in the day, though, attendees of the "Patriot's Day" rally and Antifa-organized counter protest exchanged heated words and several people started pushing each other. Police quickly arrested one man. Others were arrested as several fistfights broke out. Some of those arrested face charges related to assault and assault with a deadly weapon.
Eleven people were injured, one of whom was stabbed amid the bedlam, Berkeley police said. Seven people were transported to nearby hospitals.
Social media posts indicated that Kyle Chapman aka Based StickMan or Alt-Knight was among those who got arrested. The 41-year-old man was also taken into custody at a "March 4 Trump" last month for bashing an Antifa protester in the head with a stick. It's unclear what triggered his arrest Saturday.
Another man, believed to be the leader of an alt-right group, was captured on video slugging a female protester in the face.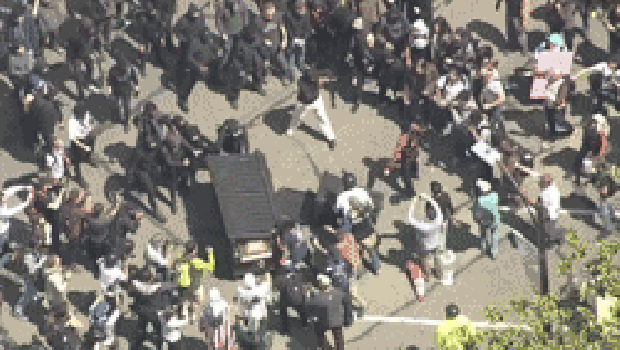 Violence Erupts at Opposing Rallies in Berkeley
Social media posts from the chaotic scenes in Berkeley described a "small blast," the use of tear gas and pepper spray, property damage, fireworks whizzing through crowds, and a man covering his eyes as blood covered his hands and dripped down his face.
Photographs from the scene showed people clad in "Make America Great Again" sweatshirts and flags and others dressed in black with their faces hidden behind helmets and masks. Flags read "Anti-fascist anti-racist," "Defend America," "Free speech" and "Fascist scum your time is done."
NBC Bay Area's SkyRanger captured people brandishing skateboards and helmets as weapons as well as tipping over a garbage bin and igniting its contents.
RAW: Protesters Tussle Over Trash Bin in Berkeley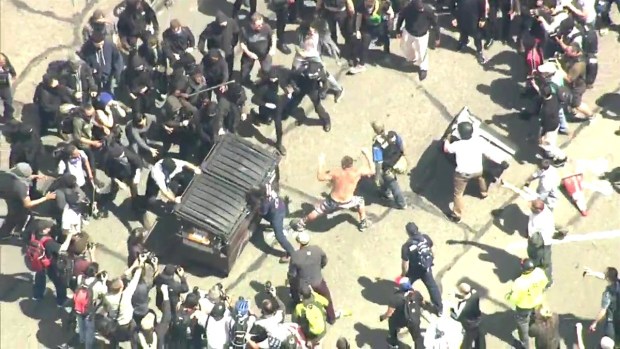 By midday, Allston Way between Milvia Street and Martin Luther King Jr. Way was blocked, as protesters moved from the park to the streets, followed closely by officers. Police urged residents to avoid the area of Center and Miliva streets. Soon the warning extended to include Shattuck Avenue and Center Street.
An investigation into Saturday's violence is ongoing. Police are asking the public to submit photos and video of the protests to help them identify additional suspects.
In order to prevent a bloody riot, city leaders on Friday had announced that pipes, bats, bricks, rocks, glass bottles, shields, pepper spray, sticks, and other potentially dangerous items were not allowed at the park during the rallies.
Clashes Break Out at Opposing Rallies in Berkeley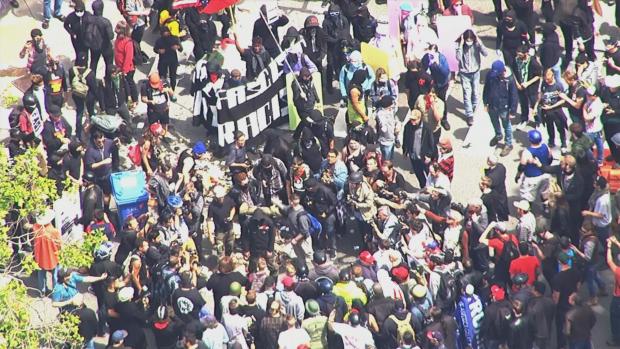 Toward that end, police checked backpacks before allowing them into the park. Even so, they tweeted that officers had confiscated a knife, a stun gun, flagpoles, and other contraband.
Berkeley police were forced to call in Alameda County sheriff's deputies for backup as rocks and bottles were launched at officers and many were assaulted, according to Twitter.
Editor's note: Berkeley police initially reported 15 arrests, but later updated that number to 13.