Fellow officers had trouble holding back their emotions Thursday as they remembered their fallen comrade, who died a day after being shot in the line of duty.
California Highway Patrol Officer Kenyon Youngstrom, 37, was shot during a routine traffic stop along I-680 near Walnut Creek Tuesday morning. He died Wednesday night.
Even in his death he saved lives. The California Highway Patrol said he donated his organs to eight different people.
In Martinez, CHP Sgt. Trent Cross had a hard time keeping his composure when talking to NBC Bay Area about his fellow officer and friend. Cross said Youngstrom was always positive and "always smiling," adding that he loved his job as a member of the highway patrol.
"He was just a great person, not just a great officer, but just a great human being," Cr
oss said.
Cross began to tear up when asked about Youngstrom's four children. "That's what really hurts the most, because someone's going to have to explain to the kids how great of a person and how amazing their dad was. And for me he will alway be missed. He's a great man."
Youngstrom, a 7-year veteran of the CHP and a former member of the U.S. Army Reserve, leaves behind a wife and four school-age children, all of whom attend school in the Fairfield-Suisin Unified School District.
One fellow officer told NBC Bay Area that Youngstrom was an identical triplet. One of his brothers died when they were young. Now that Kenyon has died, there is only one surviving triplet. The remaining brother is reportedly emotionally distraught, the co-worker said.
CHP Sgt. Diana McDermott called Youngstrom a man of faith, and the kind of guy who would hold the door open for someone and then step inside to get the second door. She said he was the first one to volunteer to man the barbecue at a CHP function.
In a statement, CHP Commissioner Joe Farrow said: "This is a very sad day for the CHP as well as all Californians. Officer Youngstrom was a valued member of the CHP family, a dedicated officer and soldier who gave his life serving the people of California. He now joins a distinguished group of heroes whose names are engraved upon the CHP Memorial Fountain and who will forever be remembered for their valiant sacrifice and service."
Youngstrom's family and members of the CHP command staff are spending the day preparing for a fitting memorial for a man killed in the line of duty.
Flags at the Martinez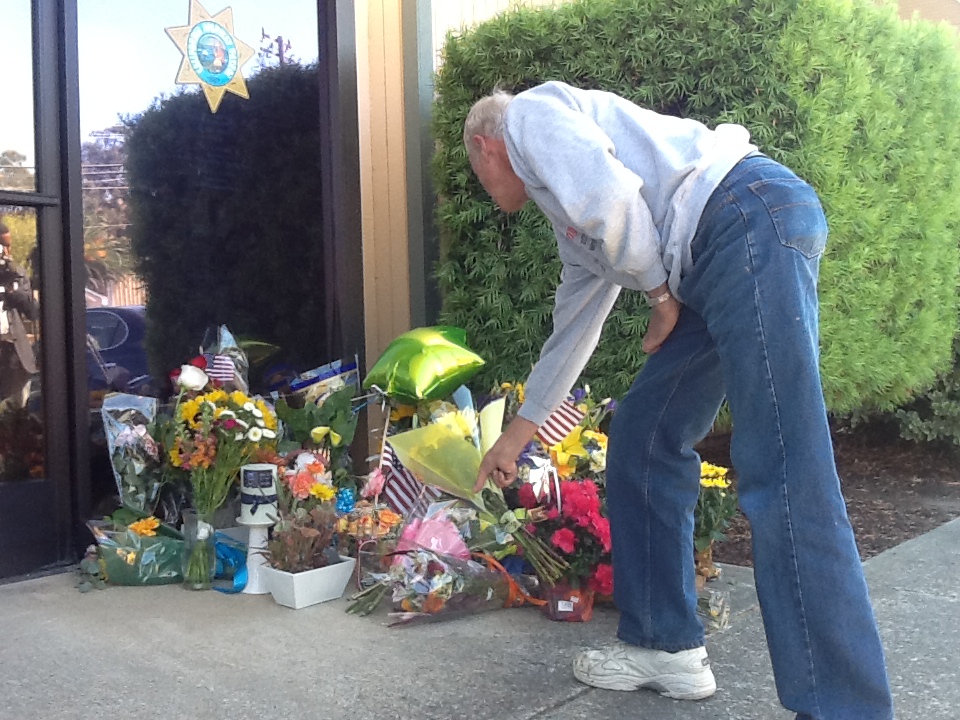 CHP office flew at half staff Thursday in a silent tribute to the life lost. There was also a constant stream of well wishers who visited the office dropping off flowers and condolences. One man (pictured below) said he credits Youngstrom for saving his life because he pulled him over when he was speeding. He told NBC Bay Area he was grateful.
Investigators said Youngstrom was shot during a routine traffic by a man now identified as 38-year-old Christopher Boone Lacy. Lacy was also shot in the head during in the shootout. He later died at a nearby hospital.
Why Lacy pulled out a gun is still a mystery.
Lacy lived in Tehama County town of Corning, and according to court records only had one DUI in Marin County in 2006. Investigators searched his mobile home Tuesday afternoon. Among the things they confiscated were six computers. Neighbors there say he liked to garden and jog, but mostly kept to himself.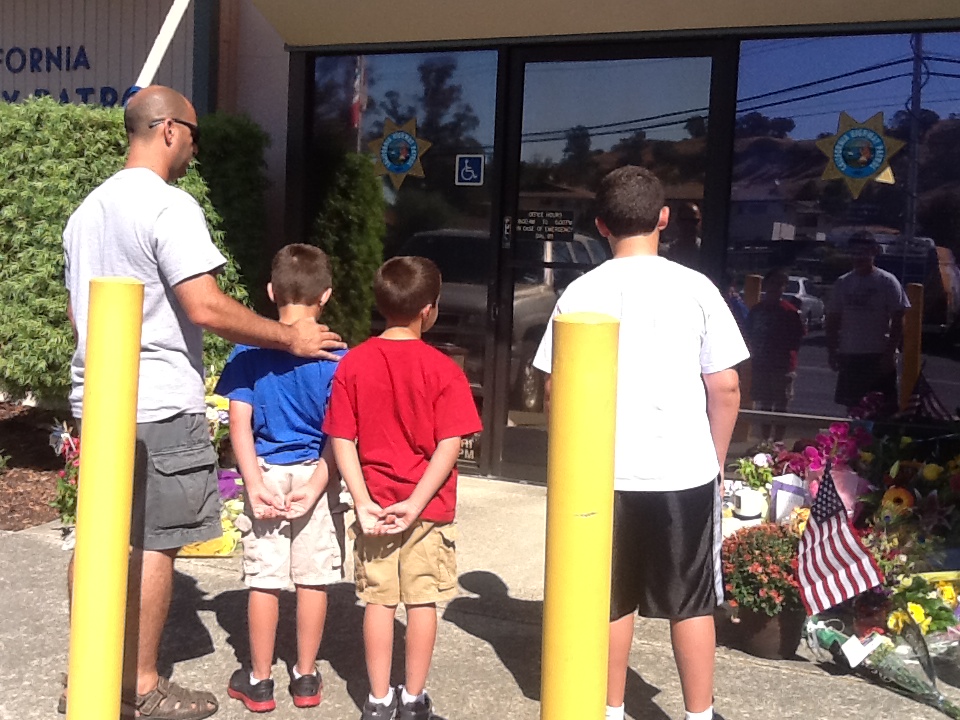 A vigil for the fallen officer was held at Oakbrook Elementary School in Fairfield Wednesday night for residents of the community of Cordelia where the Youngstrom family lives.
Susan Young, PTA Vice Pres at Oakbrook Elementary, helped organize last night's vigil. She said the Cordelia community has really been impacted by the death.
"We're a very tight knit community. It has just really rocked us."
She urged people to help by donating to the Youngstrom fund at any Wells Fargo Bank. "
There's so many unanticipated expenses that come up and with family coming in from out of town we know it doesn't matter how much support they get there's alway room for more," she said. "We can't take away their loss but we can offset some of their worries."

A Facebook page was set in Youngstrom's honor Thursday morning in hopes of motivating state officials to name the stretch of highway where he was shot after him. "Dedicate I-680 in Walnut Creek - "Kenyon M. Youngstrom Memorial Freeway" had 3,300 members in the first four hours.
The California Highway Patrol has established a memorial fund to support Youngstrom's family.

The fund is available through Wells Fargo, and donations to the Officer Kenyon Youngstrom Memorial can be made at any Wells Fargo branch, Officer Elon Steers said.

The California Highway Patrol 11-99 Foundation, which provides financial assistance to the families of fallen officers, can provide further information on the memorial. Foundation representatives can be reached at (714) 529-1199 or at info@chp11-99.org.


Published at 12:27 PM PDT on Sep 6, 2012 | Updated at 2:56 PM PDT on Sep 7, 2012