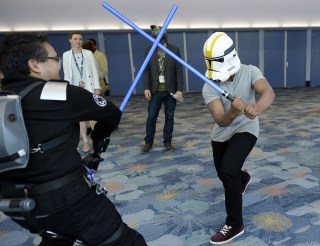 A "Star Wars" inspired LED lightsaber battle is scheduled to take over San Francisco's Justin Herman Plaza on Dec. 18, the same day that "The Force Awakens" opens in theaters.
Toronto event producers Newmindspace, who threw a bubble-blowing party in San Francisco's Dolores Park earlier this year, have been throwing lightsaber battles internationally for years. They are now gearing up to make the faux war an annual event.
"We actually started doing this event because we were inspired by how children like to sword fight with cardboard tubes after the Christmas presents are wrapped!" Newmindspace co-founder Kevin Bracken told SF Station.
Tickets for the light saber reservations cost $10 and are more than half sold out as of Tuesday. Participants may select whether they're on the Jedi or Sith side of the Force.
Moviegoers in search of something a bit more intimate on Dec. 18 might consider taking in a screening of "THX1138," George Lucas' 1971 directorial debut, at the Roxie Theater in San Francisco.