Livermore police are on the lookout for two suspects – one of whom has also been identified as a murder suspect by Fresno police – in connection to a homicide that occurred Saturday evening outside a CVS Pharmacy.
The suspect, Jason Alexander Brown, is an 18-year-old Oakland resident, police said early Sunday, adding that his alleged accomplice's identity remains unknown. A warrant has also been issued for Brown's arrest in Fresno, where he is accused of fatally shooting 27-year-old Albert Thao in a restaurant in September, officials said.
Livermore detectives, who obtained a no-bail warrant for Brown's arrest on one count of murder and one count of attempted murder, used a search warrant to comb through his residence on the 600 block of Center Street. They came up empty-handed, however, around 1:30 a.m. Sunday, police said.
According to police, dispatch fielded a number of 911 calls just after 6 p.m. Saturday with reports of a shooting in the business' parking lot at 1500 First Street. Officers arrived on scene within two minutes and found two men in their 20s suffering from gunshots inside a parked car.
The driver was pronounced dead on the scene, police said. Meanwhile, the second victim, who was in the front passenger seat and had been shot multiple times, was rushed to a local hospital, where he underwent surgery.
Neither victim has been identified by police as of Sunday morning. A post on the department's Facebook page noted that detectives believe the victims are not residents of Livermore.
Fatal Shooting Outside CVS Pharmacy in Livermore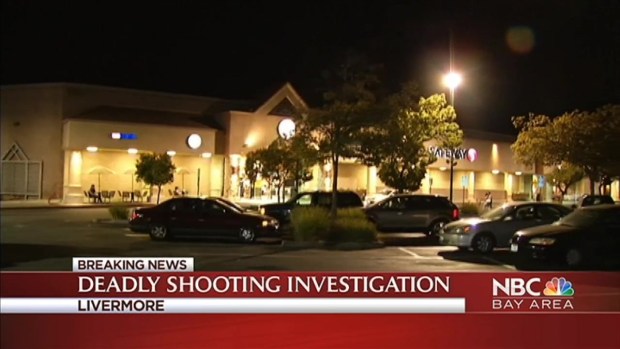 The suspects raced away in a 2006 BMW 325i whose license plate number is 5PLR682, police said. The car is black and sports a pair of red racing stripes on its hood.
Police are searching for two suspects and said their getaway car fled the parking lot onto Railroad Avenue. The California Highway Patrol located the vehicle on I-580 and initiated a pursuit, but lost the vehicle in Oakland.
"It's very dangerous and it's high risk," Sgt. Steve Goard said. "That's what's concerning to us. That's why we are dumping every resource and we are very concerned. We don't know what it is. We're trying to discover why they chose this location to engage in criminal activity."
A motive and circumstances surrounding the shooting remain under investigation, according to police.
Warning the community that the suspects are likely armed and dangerous, police asked anyone who sees them or the getaway car to call the Livermore Police Department-Public Information Officer line at 925-371-4777.
One dead, one injured in shooting in Livermore. Police looking for 2 suspects. pic.twitter.com/AibT2D4y5R

— Christie Smith (@christies_nbc) October 25, 2015
In Livermore shooting, suspect car is a 2006 BMW 325i license 5PLR682 black or charcoal color with 2 red racing stripes on the hood.

— Christie Smith (@christies_nbc) October 25, 2015
Livermore shooting, per PD: Suspects considered armed and dangerous if seen don't approach, call law enforcement.

— Christie Smith (@christies_nbc) October 25, 2015