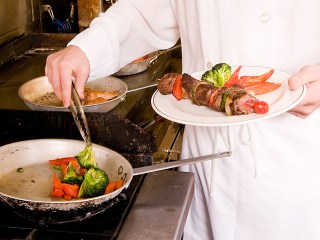 The next "Top Chef" could be a Bay Area local.
Melissa King, a chef with 10 years of experience in the Bay Area fine dining scene, is one of the competitors on the next season of television series "Top Chef," according to reports.
And she's not the only Bay Area foodie on the scene.
Keriann Von Raesfeld, 28, who lives in San Jose and owns private event meal preparation company "Exposed Gastronomy" -- and is a self-declared "wife, mommy, chef" -- following a stint as executive chef on a Royal Caribbean cruise ship will also take part in the show.
SFist notes that King was sous chef at Michelin-starred Luce and also worked the line at James Beard award-winning Delfina and Campton Place. King is also a home beer brewer and -certified.
On the show, she'll travel to Boston for a series of culinary feats that will include cooking Thanksgiving dinner at the home of Pilgrims, for Pilgrims: a meal cooked at Plimouth Plantation using only ingredients the Pilgrims would have had on hand.
Published at 9:02 PM PDT on Aug 20, 2014