A major water main break early Friday morning forced the evacuation of four Belmont homes and left behind a mess.
Crews swarmed the scene at Monserat Avenue and San Juan Boulevard when the break was reported around 3:45 a.m. They said a 6-inch cast iron pipe from 1958 had broken, sending hundreds of thousands of gallons of water into the streets and nearby houses.
"It was probably 120,000 gallons of water per minute," said police Capt. Patrick Halleran.
Water Main Break Prompts Evacuation of Four Homes in Belmont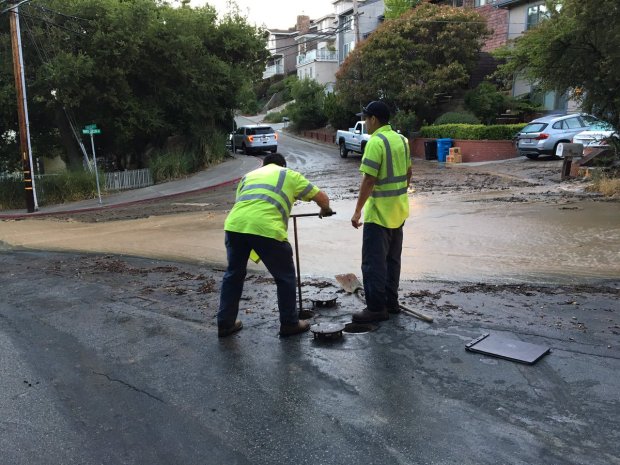 The break was capped around 7:45 a.m., police tweeted. Roads in the area were not closed, they said, but urged drivers to be cautious due to the mud on San Juan Boulevard near Monte Cresta Drive.

Homeowners said they were rudely awakened early Friday morning by what sounded like a river rushing through their neighborhood.
Geologists first checked the evacuated houses to ensure that they are structurally sound before allowing residents to re-enter, according to city officials.
As Friday progressed, however, all eyes remained on a hillside above the houses that residents worry may have been compromised by the water main break.

Water flow stopped; @RedCrossBayArea now in #Belmont offering assistance #watermainbreak#floodpic.twitter.com/aleKFPTG89

— Kris Sanchez (@KrisNBC) June 2, 2017
Nearly 3 hours later and the water main break is still not capped #Belmont@cityofbelmontpic.twitter.com/4Dk7gXIEip

— Kris Sanchez (@KrisNBC) June 2, 2017
Water iflowing around homes on 2 streets; the homeowners on the hillside above are not allowed in until deemed structurally sound. #Belmontpic.twitter.com/5rSLgejrIr

— Kris Sanchez (@KrisNBC) June 2, 2017
Homeowners under evacuation told me the sound of gushing water woke them up; @cityofbelmont crews streaming in pic.twitter.com/PnfvFe56EH

— Kris Sanchez (@KrisNBC) June 2, 2017
#Belmont : 4 homes evacuated because of water main break; Monserat Ave and San Juan Blvd. sounds like a river. pic.twitter.com/R4vQuN8D8I

— Kris Sanchez (@KrisNBC) June 2, 2017
CORRECTION (June 2, 2017, 4:15 p.m. PT): An earlier version of this story reported the break was capped around 7:45 p.m. This has been corrected to 7:45 a.m.