The man who was fatally shot by a Gilroy police officer Monday was expecting a second child with his girlfriend with whom he was involved in what police call a "violent domestic dispute."
The suspect has been identified by his family as Hector Alvarez, 19, a resident of San Jose. He also has a 9-month-old daughter with the still unidentified woman he was arguing with, his sister Alma Alvarez said.
"His girlfriend said he put his hands up and everything and then they started shooting him," an emotional Alma Alvarez said. "He didn't have a gun or anything so we are just trying to find out what happened."
The officer-involved shooting was reported around 7 p.m. Monday on Filbro Drive, near Gilroy High School, police said. Officers initially responded to the apartment complex after receiving a call of a domestic dispute. The caller said a woman was hiding from the suspect, believed to
be her boyfriend, according to Gilroy police Capt. Joseph Deras.
Deras said responding officers found the couple fighting in the apartment complex's parking lot.
Police Investigating Fatal Officer-Involved Shooting in Gilroy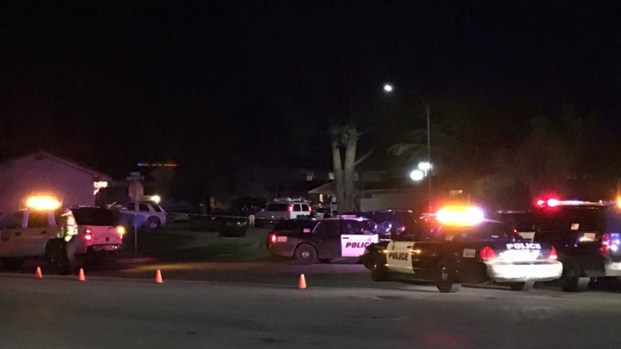 The first officer on scene heard a disturbance and was confronted by the suspect, who charged at him, according to Deras. The officer then fired at the suspect in response, the captain said.
"The officer believed he was facing a lethal encounter," Deras said in a statement.
Police have yet to confirm whether Alvarez was armed.
"He was presented with something he felt was life threatening, and had to make a decision there," Deras said of the officer. "And unfortunately, particularly at this time of year, somebody in our community tonight is dead as a result of their actions."
Deras said two officers responded to the scene, but only one officer shot Hector Alvarez. Neighbors said they heard three to four gunshots.
The officer who fired his weapon has been on the police force for four years and will be placed on administrative leave, Deras said.
Police said late Monday the investigation is still in its early stages. Once Gilroy police detectives have completed their investigation, they will hand over the case to the district attorney.
Officers are issued body-worn cameras and police will review any audio or video recordings of the incident, according to Deras.
The last officer-involved shooting in Gilroy was in January 2010, Deras said.
Hector's mom + sister say not only did he have 9 mo baby girl w/girlfriend, she's expecting their 2nd child. #Gilroy#PoliceShooting

— Stephanie Chuang (@StephChuang) December 15, 2015
Mom and sister of man shot and killed by #Gilroy police last night at PD-says he was 19yo Hector Alvarez of #SanJosepic.twitter.com/sSjGW3CAJx

— Stephanie Chuang (@StephChuang) December 15, 2015
#BREAKING: Gilroy Police shoot and kill a man outside apartment complex behind Gilroy HS. More at 11 on @nbcbayareapic.twitter.com/r9WefvfErg

— Ian Cull (@NBCian) December 15, 2015
...Gilroy PD say they were responding to "violent domestic dispute." Details now on @nbcbayareapic.twitter.com/oeMSirXufX

— Ian Cull (@NBCian) December 15, 2015
Bay City News contributed to this report.