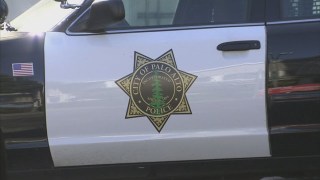 Police are looking for a man who followed a girl to her apartment complex and forced a kiss on her cheek in Palo Alto on Monday evening.
The incident happened around 5 p.m. on the 1000 block of Tanland Drive near Greer Park where the 12-year-old girl was walking with her bike and talking to a parent on her cellphone, police said.
The girl recalled seeing the man jogging on northbound Tanland Drive on the opposite side of the street, according to police. She reached her apartment complex, carried her bike upstairs and saw the man down the hallway while she was looking for her house key.
The suspect walked past the girl and said, "Excuse me," then repeated the phrase when she opened the door, police said. As she turned her back to him, however, the suspect placed his hand over her
mouth and kissed her cheek — all in a matter of seconds.
The girl screamed, prompting the suspect to flee out of the complex toward Tanland Drive, according to police.
The girl, who stayed on the phone during the incident, later told police that she was not hurt but couldn't breathe while the suspect covered her mouth.
Police said the girl's parents reported the incident around 8:30 p.m.
The suspect is described as a Hispanic male between 17 and 35 years old who wore a light gray hooded sweatshirt and dark-colored workout pants, according to police.
Anyone with information about the case is asked to contact police dispatch by calling (650) 329-2413 or sending an email to paloalto@tipnow.org. Tips can also be sent by text message or voicemail to (650) 383-8984.