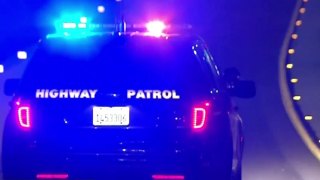 A man was struck by several vehicles and killed while running across Interstate Highway 880 after a chain-reaction collision early Saturday morning in Hayward, according to the California Highway Patrol.
At around 1:30 a.m., the CHP received reports of a collision on northbound Highway 880 near Paseo Grande Avenue and then heard of a second incident on southbound Highway 880 near state Highway 238, CHP officials said.
At the first location, office discovered that a Cadillac sedan had collided with the rear of a passenger van, which then kept traveling a short distance before it was disabled, CHP officials said
Several other cars, according to the CHP, then struck the disabled van. The occupants were able to exited the vehicle beforehand, officers said.
Meanwhile, the Cadillac had come to rest near Paseo Grande Avenue and it appears the driver exited the vehicle, jumped over a center median and attempted to run into the highway's southbound lanes, CHP officers said.
The man, whose identity has not been released, was then hit by a slew of vehicles. He was pronounced dead at the scene.
Five of six southbound lanes of Highway 880 were closed for more than two hours as a result of this incident. The northbound lanes were completely closed for about an hour, according to the CHP.
The accident is being investigated by the CHP. People with information are asked to call the CHP at (800) 835-5247.