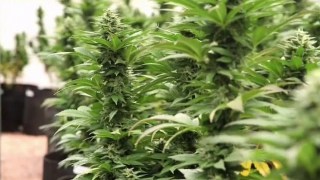 A man who police said was a guard at an illegal marijuana grow house in East Oakland has been charged with murder for allegedly fatally shooting a man who was trying to steal marijuana from the house, prosecutors said Thursday.
Juan Sanchez Castulo, 25, was scheduled to be arraigned in Alameda County Superior Court Thursday afternoon on the charge stemming from the shooting death of 19-year-old Victor Diaz of Oakland at the grow house at 9931 Dante Ave. at about 7:50 p.m. on Sunday.
Oakland police Officer Phong Tran wrote in a probable cause statement that Castulo told police that Diaz and Kevin Henry, 19, were trying to break into the grow house by moving a car that was blocking the house's entrance.
Tran said Castulo fired multiple shots at Diaz and Henry and struck both men.
Diaz suffered a fatal gunshot wound and was pronounced dead at the scene but Henry received a non-life-threatening injury and was able to drive himself to Highland Hospital in Oakland to get treatment, according to Tran.
Police located Castulo on Monday and he provided a statement about his involvement in Diaz's shooting death, Tran said.
In addition to the murder charge for Diaz's death, Castulo is charged with assault with a semi-automatic firearm for allegedly shooting Henry.
Castulo, who's also known as Juan Sanchez and Carlos Sanchez, is being held at the Santa Rita Jail in Dublin without bail.