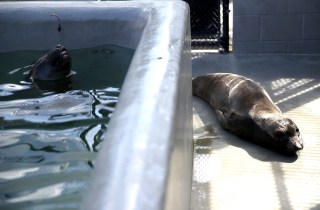 Officials from the Marine Mammal Center in Marin County say they're in immediate need of new volunteers to fill critical animal care roles during seal pupping season, which has already begun.
Elephant and harbor seals come to California's shores to give birth this time of year. Some of them have already needed to be rescued, and the center is looking for volunteers to help care from them at their animal hospital, particularly from 7 a.m. to 5 p.m. on weekends.
Center officials typically ask for a commitment of at least six months, but there is at least one available position in the fish kitchen for volunteers with no training and no long-term commitment.
Michele Hunnewell, an animal care volunteer and the center's Wednesday volunteer crew supervisor, called volunteering a unique experience due to the hands-on nature of the work.
"The opportunity to have a major impact in giving these marine mammals a second chance is incredibly fulfilling and makes me fee like I'm making a difference," Hunnewell said.
Anyone interested in volunteering is encouraged to visit one of two upcoming open house events scheduled from 5 p.m. to 7 p.m. on Feb. 15 or 9 a.m. to 11 a.m. on Feb. 17.
The registration form is available online.
The Marine Mammal Center rescued 630 animals in 2017 with the assistance of more than 1,200 volunteers who performed roughly 142,000 hours of service.