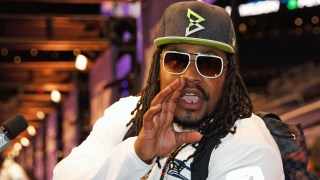 A biopic on the life of Seattle Seahawks running back and Oakland, Califorinia native Marshawn Lynch was shot, but will not be coming to theaters or television.
The film "Family First: The Marshawn Lynch Story" has failed to meet the standards of Lynch and his representatives.
His agent Doug Hendrickson told Rolling Stone that producer Mario Bobino, described as a family friend, "did a terrible job, and the film will never be released."
Bobino posted a trailer to YouTube in February — featuring Lynch but without his consent, he later admitted — and removed it a few days days later, reportedly on Lynch's objections to the trailer's poor sound, editing and lighting.
He told Rolling Stone that he invested $18,000 from his retirement savings for the project and has taken a job as a juvenile probation officer in order to pay off debts he incurred while making the movie.
The trailer, which can still be viewed online, features stilted acting and familiar East Bay locations like Blondie's Pizza in Berkeley, spitting distance from the Cal campus where Lynch first rose to football prominence.
Though Lynch plays for Seattle, his heart is still in Oakland, home of his non-profit Fam 1st Family Foundation.