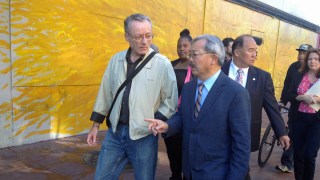 Market Street was never San Francisco's boasting point.
And that left Mayor Ed Lee feeling less than proud -- ashamed, even.
In an interview with Forbes, the mayor reveals that he's felt "a bit ashamed" of the gritty stretch.
"I've always felt a bit ashamed, as a department head, as a city administrator, that Market St. wasn't our best street — that we had to point to Embarcadero or places afar, and yet it was here that commerce largely originated with the excitement of San Francisco during the gold rush," Lee told the magazine.
To prettify San Francisco's grand boulevard, Lee has done much: he's incentivized tech companies to relocate headquarters to the area, which has brought in glittering new condo towers to the area "previously known for homeless encampments, drug dealing and litter," Forbes wrote.
And now, things are better. But Lee isn't done yet, adding that he's continuing to reach out to tech companies to build more "public private partnerships," he told the magazine.
Published at 11:02 AM PDT on Jul 29, 2014