Colleagues, friends, family and strangers came out in droves Thursday to pay final respects to a California Highway Patrol officer fatally shot in the head last week during what started as a routine, random stop about a dead deer in the road.
They remembered CHP Officer Kenyon Youngstrom as a Christian man who preached forgiveness; a dorky dad who did crazy touchdown dances in the living room; a fast food junkie; a "hot pencil" officer who wrote lots of tickets to highway scofflaws; and a good family man who loved his wife and four children.
CHP Commissioner Joe Farrow addressed a packed house at The Mission Church in Vacaville during a two-hour ceremony, telling Youngstrom's family: "You can always be proud of your dad. As a CHP Officer, your father made a difference."
Farrow was one of several speakers at the funeral service for Youngstrom, 37, of Cordelia who was killed Sept. 4 on Interstate 680 near Alamo in broad daylight. Gov. Jerry Brown was in the audience, but did not speak.
Youngstrom had pulled over on reports of a dead deer in the road. At the same time, Youngstrom spotted a car, driven by Christopher Boone Lacy of Tehama County headed to Silicon Valley, for an obstructed license plate.
Authorities say Lacy - got out of his car and pulled out a gun, for reasons still unclear, and shot Youngstrom.
Youngstrom's colleague was nearby and shot Lacy, who died at the scene. Youngstrom died the following evening and donated his organs, saving the lives of four people, including a father of four like himself.
Lacy, 36, had just started a new job as a senior software engineer at the Mountain View-based Mindsource Inc., and was on his way to see a Sunnyvale client - a 430-mile commute from home.
At the service, it was clear that Youngstrom made an impact on his family. Four of his brothers - including a twin - spoke about him. Clinton Youngstrom remembered his twin as a man who loved Band-Aids and duct tape, who had a bit of a temper and who had long wanted to be a CHP officer.
In a moving speech, Youngstrom's oldest - 17-year-old Alex - talked about how silly and "dorky" his dad was, doing weird, "gyrating" dances after Steven Jackson made a touchdown for the Saint Louis Rams and how his dad would fake attack him when he least expected it, one time, while washing glass dishes.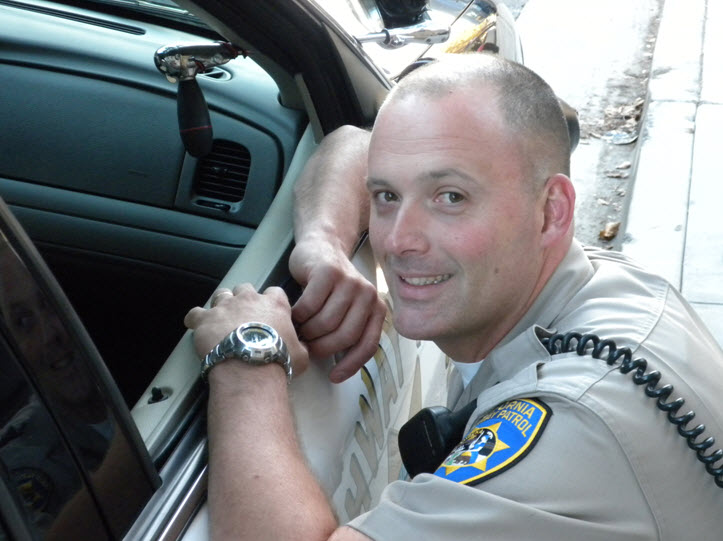 But more importantly, Alex said, was that his dad taught him forgiveness.
"He'd always forgive me after I did something stupid," Alex said. "And yeah, he would get angry, but he would always apologize and ask for forgiveness."
Youngstrom's partner Tyler Carlton, the officer who killed Lacy, also spoke in a tear-filled speech that begin with the recitation of the lyrics from The Byrds' "Turn, Turn, Turn."
He called Youngstrom a "God-fearing man who loved the Lord and his family with all his heart," who took one of the first opportunities upon having coffee with him to whip out his smartphone and show off his beautiful wife and kids.
Though the service is over, the Fairfield community is continuing to raise money for Youngstrom's family. The officer of seven years is survived by his wife, Karen; sons Alexander, 17, and Andrew, 10; daughters Madison, 13, and Kennedy, 5; parents, Gaylord and Jill Youngstrom of Riverside, along with four brothers and a sister.
"Jump Highway" will continue to accept donations for Youngstrom's family in the coming weeks. Donations can be made through this website.