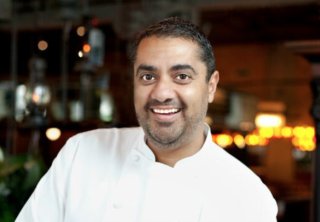 Chef and restaurateur Michael Mina will host a series of pop-up dinners in a new San Francisco test kitchen before deciding on a fresh restaurant concept for the space.
The test kitchen and future restaurant is located in the Marina District at 2120 Greenwich St. The 1600-square-foot space was previously home to Cafe Claude.
"We're going to utilize it as a test kitchen until we figure out what the right concept is, the one that truly resonates with the community," Mina said in a statement.
The first pop-up dinner, which is on a date to be announced, will explore the intersection of California cooking with Israeli, Lebanese, Turkish, and Egyptian influences; Mina was born in Egypt.
Mina already operates several permanent eateries in San Francisco, including the namesake Michael Mina, RN74, Bourbon Steak, Clock Bar, PABU Izakaya and The Ramen Bar, and Arcadia in San Jose.